Ariana Grande

Grande at the 2016 MTV's Video Music Awards, August 28, 2016
Biographical Information
Date of Birth:
June 26, 1993 (age 27)
Origin:
Boca Raton, Florida
Years active:
2008-present
Show Information
Character(s):
Chanel #2
Season(s):
Season One
Show Status:
Inactive
"

Initially she was just going to do one episode, but she loved the process so much that she wanted to do more.

"

—Ryan Murphy on Ariana Grande being part of Scream Queens[src]
Ariana Grande-Butera, better known as Ariana Grande, is an American actress and singer-songwriter.
She started her acting career in the Broadway musical 13. After that, she came to fame when she was portraying Cat Valentine on Victorious, a Nickelodeon sitcom during 2009. When it ended, Grande continued giving life to Cat in the Victorious spin-off series Sam & Cat, which ended after 35 episodes in the first season.
Ariana is now better known for her music career. Her debut album, Yours Truly, debuted in 2013 at number one on the U.S. Billboard 200. My Everything (2014) is Grande's sophomore studio album. It also reached number one in the United States. Her songs "Problem" (featuring Iggy Azalea), "Break Free" (featuring Zedd), "Bang Bang" (with Jessie J and Nicki Minaj), "Love Me Harder" (featuring The Weeknd), and "One Last Time" are included in the album. With these songs, she spent 34 straight weeks in the Top Ten of the Billboard Hot 100. Grande started The Honeymoon Tour in February 2015, and her third studio album, Dangerous Woman, was released May 20, 2016, with the lead single titled "Dangerous Woman".
Although she is now focusing on music, Grande guest-starred as Sonya Herfmann/Chanel #2 on Season One of Ryan Murphy's horror-comedy series Scream Queens.
Career
2008: Broadway's 13
In 2008, Grande was cast in the musical 13 as the supporting role of cheerleader Charlotte on Broadway. Because of this, Grande won a National Youth Theatre Association Award. When she joined the musical, Grande left her high school, North Broward Preparatory School, but continued to be enrolled. The school sent materials to her so she could study with mentors. She also sang various times at the New York City Jazz club Birdland.
By the age of 13, Grande started pursuing a music career.
2009–2012: Victorious and Sam & Cat
In 2009, she auditioned for the Nickelodeon sitcom Victorious in New York. She won the part of Cat Valentine, a sweet, innocent, and distracted classmate and friend of protagonist Tori Vega (Victoria Justice) who attends to a performing arts high school, Hollywood Arts. For the role, Grande had to dye her hair red, because series creator, Dan Schneider, thought they had enough brunette cast members, and it would also fit better with Cat's personality. For this, she signed the rights for her hair to Nickelodeon. After becoming a TV actress, Grande expressed that it was fun, but music has always been first and foremost with her.
Ariana Grande appeared on the track "Give It Up" on the soundtrack Victorious: Music from the Hit TV Show in August 2011, making it her first musical appearance. Grande uploaded to YouTube several recording covers of herself singing covers of Adele, Whitney Houston, and Mariah Carey. Monte Lipman, the founder of Republic Records, saw them and signed her to a recording contract. She started working on her debut album and "Put Your Hearts Up" was released as her debut single during December of 2011. Unsatisfied with the direction that her album was going, she restarted to work on her debut album, because she was not interested on the bubblegum pop genre. Also in 2011, she voiced Princess Diaspro on the Nickelodeon animated television series Winx Club. which continued for six seasons. Victorious 2.0 is the second soundtrack of Victorious, in which Grande participated. "L.A. Boyz" is the lead single of the third soundtrack, Victorious 3.0, and it features Grande and Justice.
In 2011, Grande was part of an special episode of Nickelodeon's sitcom iCarly, which featured a crossover with the Victorious cast. Victorious was canceled after three seasons in 2012, but Grande continued portraying Cat one hew own Nickelodeon series, a spin-off sitcom titled Sam & Cat, which also starred Jennette McCurdy, who gives life to Sam from iCarly. It premiered on June 8, 2013. Despite being a success in the ratings, the series was canceled due to Grande's rising musical career and behind-the-scenes drama, with the final episode airing on July 17, 2014. For Sam & Cat, Grande stopped dying her hair red and started to use a wig.
Grande was featured on Mika's single, "Popular Song", during 2012, and portrayed Snow White in a pantomime production called A Snow White Christmas, at the Pasadena Playhouse. It also starred Neil Patrick Harris and Charlene Tilton.
2013: Yours Truly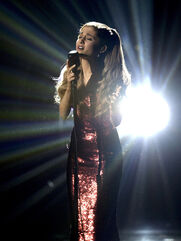 Grande recorded her debut album, Your Truly, for three years. It was finally released on August 30, 2013. In September 2013, it debuted at No. 1 on the US Billboard 200 albums chart—with 138,000 copies sold in its first week—making Grande the first female artist, since Kesha, to have her first album debut atop of the charts—and the fifteenth female artist overall. Yours Truly also debuted in the top ten in several other countries, including Australia at number six, the UK at number seven,Ireland at number six, and the Netherlands at number five. It also debuted on New Zealand's top 40 albums chart at number eleven. By April 2014, the album had sold more than 500,000 copies in the United States, making it Grande's first gold album.
The lead singer for Yours Truly is "The Way", featuring the rapper Mac Miller. It debuted at No. 10 on the US Billboard Hot 100. Her second single, "Baby I", debuted at number 21 on the US Billboard Hot 100 chart, making it her second Top 40 hit. Big Sean collaborated with her for Grande's third and final single for this album, "Right There".
Grande portrayed Amanda Benson on Swindle, a Nickelodeon film. It premiered in August of 2013. The same month, she and Nathan Sykes of The Wanted lent their vocals on the duet "Almost Is Never Enough". She joined Justin Bieber's Believe Tour for three shows, and won the award for New Artist of the Year at the 2013 American Music Awards. She released a four-song Christmas EP, Christmas Kisses in December 2013, which included covers and orginal songs and received critical praise for its "R&B spin" on the Christmas classics. Eartha Kiio album My Everything on August 25, 2014, with Rolling Stone magazine writing that "My Everything is where the 21-year-old Nickelodeon starlet grows up. It's a confident, intelligent, brazen pop statement, mixing bubblegum diva vocals with EDM break beats". It sold 169,000 copies in its first week and debuted atop the Billboard 200, becoming her second consecutive No. 1 album in the US. "Problem", featuring Australian rapper Iggy Azalea, is the lead single of the album. The song debuted at No. 3 (eventually climbing to No. 2) on the Billboard Hot 100, and debuted at No. 1 on the UK Singles Chart, becoming Grande's first No. 1 single in the United Kingdom. "Break Free", featuring Zedd, peaked at No. 4 on the Billboard Hot 100 and No. 1 on the Hot Dance/Electronic Songs.
Grande participated with Jessie J and Nicki Minaj on "Bang Bang". The song reached No. 3 in the US, Grande's third song in the Hot 100's top ten the same week, and went to No.1 in the UK. It is Jessie J's lead single of her 2014 album, Sweet Talker, but it was also part of Ariana's sophomore album as the third single. The fourth single from My Everything, "Love Me Harder", featuring The Weeknd, debuted on the Billboard Hot 100, peaking at number seven. An EP titled Love Me Harder was also released in September to promote the song, featuring two other songs of the album. The fourth single from the soundtrack album for the film The Hunger Games: Mockingjay – Part 1, Major Lazer's "All My Love", featured Ariana Grande. It was released on November 17, 2014. Ariana Grande's new Christmas single, "Santa Tell Me", was released on November 24, 2014. My Everything's fourth single, "One Last Time", was released on February 10, 2015, which peaked at No. 13 on the Billboard Hot 100. By April 2015, the album had sold more than 600,000 copies in the US.
In September 2014, Grande was the musical guest on the season 40 premiere of Saturday Night Live, and was also a guest judge during the seventh season of RuPaul's Drag Race.
2015–present: The Honeymoon Tour, Scream Queens, and Dangerous Woman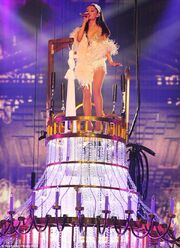 On February 25, 2015, Grande started her second headlining tour, The Honeymoon Tour. It is traveling across North America and Europe playing a total of forty shows over a span of five months. The tour started in Independence, Missouri. On March 20, 2015, Grande announced that she would be adding 48 additional dates to her Honeymoon Tour, making it an eighty-eight shows tour..
Grande is currently working her third studio album. She announced in May 2015 that "Moonlight" is the title for both, her third studio album and a new song.Source However, she renamed the album to Dangerous Woman in February 22, 2016, and is expected to be released that year with its lead single titled "Dangerous Woman" released March 11, 2016.
In May 2015, singer Miley Cyrus invited Ariana Grande to be part of a cover of Crowded House's Don't Dream It's Over for Cyrus' charity Happy Hippie Foundation, that helps to raise awareness and much-needed funds for homeless and LGBT youth community. Grande recorded the song "Zero to Hero" from the 1997 Disney animated film Hercules, for the compilation album We Love Disney, which also has the participation of other artists such as Jessie J, Gwen Stefani, Jason Derulo, and Ne-Yo. The album was released in October. Grande released a six-song Christmas EP in December, titled Christmas & Chill. She was also part of Who Is Fancy's single "Boys Like You", also featuring singer Meghan Trainor, which was released in November. A remix of Nathan Sykes' song "Over and Over Again" featuring Grande was released on January 15, 2016.
She guest-starred on Season One of Ryan Murphy's Scream Queens as Chanel #2, which premiered on September 22, 2015 on the Fox Broadcasting Company. Her first fragrance, ARI, was also released in September. Grande filmed an episode for the unscripted TV reality series titled Knock Knock Live, hosted by Ryan Seacrest. This episode was scheduled to air in 2015, but before it could, Fox decided to cancel the series after two episodes due to low ratings. In 2016, she did a cameo for the comedy film Zoolander 2, starring Ben Stiller and Owen Wilson. She also hosted and performed on Saturday Night Live In March, performing the songs "Dangerous Woman" and "Be Alright".
Her third studio album, Dangerous Woman, was dropped on May 20, 2016. She had previously released some songs from her album such as "Dangerous Woman", "Be Alright", and "Let Me Love You" featuring Lil Wayne. Of the remaining songs, a new song was made available daily for streaming by Beats 1 Radio on Apple Music for a week up until the official album release.
Personal life
Grande was in a relationship with her 13 co-star Graham Phillips from 2008 to December 2011. In February 2012, she and her back-up dancer Jordan Viscomi started a relationship, which did not last long. Rumors about him using her to promote his own career started after Grande stated that it was a "horrible, horrendous break up. My heart was broken and shattered. [She was] crying through hair and makeup", while filming Victorious, and "couldn't even pull myself together". In August 2012, she started a relationship with Jai Brooks, a member of the Australian band and YouTube group The Janoskians. They first started a long distance relationship until they finally met each other officially. In early August 2013, Grande released a song titled "Almost Is Never Enough" with The Wanted's Nathan Sykes, and after the music video was released, rumors about them being together began. After one week of Jai and Ariana's 10 month anniversary, she confirmed that their relationship was over. On the day that was supposed to be Jai Brooks and Grande's one year anniversary, October 7, 2013, he claimed that she cheated on him and that he was left for another man. This accusations were proclaimed by Ariana Grande as "false, unexpected, hurtful, and shocking", and that he was using her to get his "fifteen minutes of fame".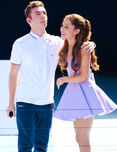 In late September, Grande confirmed her relationship with Sykes, and later in December they decided to end it in a friendly way. Nathan released another duet with Ariana titled "Over and Over Gain" in 2016. When 2014 started, Brooks and Grande refollowed each other on social media and indirectly tweeted each other. In April, Grande admitted that she was "in love", and during an interview stated she likes bad boys, and that she once tried to date a good boy, but that it did not work out, referring to Nathan Sykes. Ariana Grande and Jai Brooks were caught kissing after she performed at the iHeartRadio Music Awards on May 1, 2014, confirming that they were back together again. After that, they publicly shared their romantic relationship on Instagram and Twitter. In July 2014, Grande's grandfather, with whom she was really close, passed away. This situation was devastating and really hard for her to go through. After weeks of her grandfather's departure, she tweeted: "I thank everybody who was here for me when I needed them as the ones who weren't really broke my heart." A source later confirmed that Brooks and Grande had broken up. "When her grandfather was dying, everyone was there for her. People flew to Florida to be with her, but Jai didn't. [...] Ariana just felt he wasn't there like he should have been", the source said.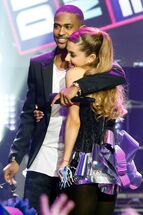 On October 13, 2014, Grande confirmed that she is dating rapper Big Sean after reports have been circulating since August of that year. They ended their relationship in a friendly term because of distance and schedule problems during April 2015, after an 8 month relationship. Other rumors say Big Sean dumped Ariana for dancing and hanging out with her good friend Justin Bieber. In June 2015, a video got leaked and featured Grande kissing her backup dancer Ricky Álvarez. She has since then shared their relationship indirectly through social media, particularly Snapchat, but there is not an official confirmation about it.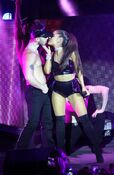 Ariana Grande was raised a Roman Catholic but abandoned Catholicism after becoming disillusioned with the church during the reign of Pope Benedict. She has followed Kabbalah teachings since at least the age of twelve, believing "the basis lies in the idea that if you're kind to others, good things will happen to you."
Credits
Films
Films
Year
Title
Role
Notes
2011
Snowflake, the White Gorilla
Snowflake (voice)
English dub
2013
Swindle
Amanda Benson
Television film
Nickelodeon Original Movie, main role
2015
Jem and the Holograms
Herself
cameo
2016
Underdogs
Laura (voice)
English dub
2016
Zoolander 2
Latex BDSM
Supporting role
2016
Hairspray Live!
Penny Lou Pingleton
NBC Movie, main role
Television
Television

| Year | Title | Role | Notes |
| --- | --- | --- | --- |
| 2009 | The Battery's Down | Bat Mitzvah Riffer | Episode: "Bad Bad News" |
| 2010-13 | Victorious | Cat Valentine | Main role, 57 episodes |
| 2011-2012 | iCarly | Cat Valentine/The Bride | Recurring roles, 3 episodes |
| 2011-13 | Winx Club | Princess Diaspro (voice) | Recurring role, 4 episodes - voice only |
| 2013-14 | Sam & Cat | Cat Valentine | Co-lead role, 40 episodes |
| 2014 | Family Guy | Italian Daughter (voice) | Episode: "Mom's the Word" |
| 2014 | Saturday Night Live | Herself (musical guest) | Episode: "Chris Pratt/Ariana Grande" |
| 2015 | RuPaul's Drag Race | Herself (guest judge) | Episode: "Ru Hollywood Stories" |
| 2015 | Knock Knock Live | Herself | Unaired episode |
| 2015 | Scream Queens | Chanel #2 | Recurring role, 6 episodes |
| 2016 | Trendy 5 | Coco Chanel | Guest role, 1 episode |
| 2016-2017 | The Voice | Herself | 2 episodes |
| 2017 | One Love Manchester | Herself, also singer, organiser and producer | TV Special |
| 2017 | Carpool Karaoke: The Series | Herself | 1 episode |
Stage
Stage

| Year | Title | Role | Notes |
| --- | --- | --- | --- |
| 2008 | 13 | Charlotte | Broadway musical |
| 2010 | Cuba Libre | Miriam | Musical |
| 2012 | A Snow White Christmas | Snow White | Musical |
Discography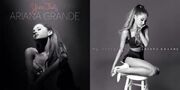 Studio albums
Yours Truly (2013)
My Everything (2014)
Dangerous Woman (2016)
Sweetener (2018)
Thank U, Next (2019)
Compilation albums
The Remix (Japan-only) (2015)
The Best (Japan-only) (2017)
Extended plays
Christmas Kisses (2013)
Love Me Harder (2014)
Christmas & Chill (2015)
Tours
The Listening Sessions (2013)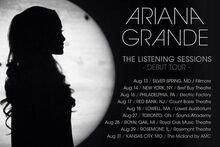 The Listening Sessions is a minitour by Ariana Grande. It featured songs of Grande's debut studio album Yours Truly and started on August 13, 2013 in Silver Spring, United States. After 12 shows in North America, The Listening Sessions tour ended on September 22, 2013 grossing over $679,360 from 11 of the 12 shows. Grande's debut tour was supposed to expand after the release of Yours Truly, August 30, 2013, but got cancelled due to Grande's Nickelodeon show Sam & Cat and the beginning of the production of Grande's sophomore studio album, My Everything.
The Honeymoon Tour (2015)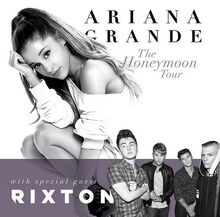 The Honeymoon Tour is Grande's second headlining tour and first international tour. Although songs of her second studio album, My Everything, are mainly performed, the tour also features some songs of the first album, other additionals songs and, in some shows, covers. After being officially announced on September 10, 2014, The Honeymoon Tour started on February 25, 2015 in Independence, Missouri and concluded after a total of 90 shows on December 9, 2015 in Saitama, Japan. It traveled across North America, Europe, Asia, and South America, and received positive reviews with critics praising Grande's oustanding vocals.
The Dangerous Woman Tour (2017)
The Sweetener World Tour (2019)
Other
Grande was one of the opening acts for three shows (Jacksonville, Tampa, Atlanta) in the United States of Justin Bieber's Believe Tour during 2013. She also participated in the 2013 and 2014 Jingle Ball Tour with other artists. Grande was part of the Free All-Star Concert that was held in Cincinnati, Ohio at the Paul Brown Stadium on July 11, 2015. The tickets for Grande were all claimed in under five minutes.
Trivia
Because she is a singer, Ariana Grande recorded only a few screams in the recording studio, and told Ryan Murphy to use those screams whenever her character needed to scream so that her voice did not get damaged. When filming, she only opens her mouth and the scream is later added in post-production.
Ariana Grande became a vegan after watching Blackfish, a documentary focused on Tilikum, an orca held by SeaWorld.
Grande is fan of Ryan Murphy and Brad Falchuk's American Horror Story.
Lea Michele and other Glee Cast members sung "Break Free", by Grande, on the series.

Ryan Murphy also used "Problem", by Ariana Grande, on Glee, sung by Dianna Agron, Heather Morris, and Naya Rivera.

She would have played any type role in Scream Queens if Ryan asked her just because she loves his works.
After rumors of Grande having a feud with two of her co-stars in other shows in the past, it was reported that Lea Michele and Grande were having discussions because Murphy's attention was all for Michele. This was later confirmed to be false after Michele tweeted Ariana saying that she loves her and called her "my girl". It was later said, before Grande started filming for the series, that Grande and Emma Roberts were having a feud because of Grande's fake petition of no cell phones allowed when she was on set. Supposedly, Roberts went crazy and told the producers how upset she was about Grande being part of the cast. Once again, this resulted to be false after Roberts tweeted about how excited she was to have Ariana on set. Ariana also expressed how excited she was to see Roberts on set.Source Source Source Source Source
Before Scream Queens, it was reported that Ariana Grande had a fight with one of her Victorious co-stars, Victoria Justice, because Grande revealed the real reason of the cancellation of the series and Seventeen Magazine misunderstood some Grande's statements. Justice and Grande have said that there is no feud and that they are friends, but have distanced themselves from each other after the show ended. Grande later appeared on her own Nickelodeon show, Sam & Cat, with Jennette McCurdy in 2013. A fight between the two stars did happen, though the real reason was never reported or announced. The two stopped talking to each other for months and McCurdy made fun of Grande on her web-series What's Next for Sarah? by creating a really annoying character named Gloriana, whom closely resembled Ariana. However, both artists have moved on, and McCurdy now describes it as a common fight between sisters.Source Source

Sam & Cat is Grande's first on-screen lead role.
Ariana and Sam & Cat co-star Jennette McCurdy have the same birthdays, but Jennette is one year older.
With Scream Queens, Grande first appears on-screen as a recurring character.
Ariana currently has six pet dogs: Coco, Toulouse, Ophelia, Fawkes, Cinnamon, and Sirius.
Ariana has a half-brother named Frankie James Grande who is 11 years older than Ariana. He is a musical theatre actor, producer, reality television personality, host, professional dancer, and YouTube personality.
When Ariana went to set for the first time for filming, she and Billie Lourd became really good friends. They even went camping in Santana Barbara, where they rented a boat, ate cheese and salami, and did some beading. Billie also describes Ariana as "the realest chick I've ever met!".
Her name was inspired by the Princess Oriana from Felix the Cat.
Her first words ever was 'bubble'.
Lea Michele thinks that Ariana "is a great actress".
Austin and Aaron Rhodes think Ariana is the best Special Guest Star of Season One.
Her favorite fruits are strawberries, watermelon, and pineapples.
She loves Celine Dion, Imogen Heap, and Indian Arie.
Her favorite colors are periwinkle blue, marshmallow white, sea foam green, and coral pink.
Ariana Grande became a pescetarian on July 3, 2010.
On November 3, 2013, she became a vegetarian.
Gallery
External links
Community content is available under
CC-BY-SA
unless otherwise noted.