Austin and Aaron Rhodes
Biographical Information
Date of Birth:
August 9, 1995 (age 20)
Origin:
Mansfield, Ohio, United States
Years active:
2015-present
Show Information
Character(s):
Dodger and Roger
Season(s):
Season One
Show Status:
Inactive
Austin and Aaron Rhodes are fraternal twin brothers who became YouTube personalities after uploading a viral video in which they revealed to their father that they are both gay.
Both Aaron and Austin are signed to Wilhelmina LA and guest-starred as Roger and Dodger on Season One of Scream Queens.
Early life
Aaron and Austin attended Ashland High School while growing up in Ashland, Ohio. While in Ohio, they both worked as sales associates at Hollister Co. After graduating high school, Aaron attended Ohio State University for a short time before deciding to leave and make the big move to Los Angeles in 2014 with Austin. Austin is studying at Georgetown University.
Career
2014-present: YouTube and Scream Queens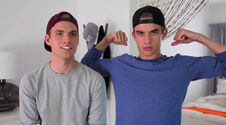 In the first 3 months after creating The Rhodes Bros channel, Aaron and Austin accumulated 50,000 subscribers, and they eclipsed 100,000 subscribers by late 2014. Their first video is called "Meet The Rhodes Bros!", which has more than 430,000 views as of July 2015.
In early 2015, they uploaded an emotional video called "Twins Come Out To Dad". In the video, the twins tell the camera that most people know they're gay but that there is one more person they need to tell: their dad. The twins are incredibly nervous while the phone rings and they make small talk with their dad. When they finally tell him, their dad's response is "I love you both. You're living your lives, and that's all you can do in life is live it." The video later went viral, gaining more than 19 million views as of July 2015 and earning the boys, along with their father, an interview on the Ellen DeGeneres Show.
On February 16, 2015, they announced via a YouTube video that they were both joining the upcoming horror-comedy TV anthology series Scream Queens after having some meetings with one of the creators, Ryan Murphy.Source That same month, Austin and Aaron signed with Wilhelmina Models in Los Angeles.
Personal life
Aaron revealed on Twitter that he is currently dating fellow Wilhelmina model, Travis Bryant.
There has been much speculation regarding the identity of Austin's boyfriend. Although no formal announcement has been made, it is believed to be celebrity hairstylist, Justin Anderson.
However, Austin was tagged in a photo on Facebook that says otherwise. Not much is known about the mystery boy. The caption read: bright lights-late nights-gay rights. The photo has since been taken down from public view.
Filmography
Trivia
Austin and Aaron's favorite Special Guest Star during Season One is Ariana Grande, though they never got to meet her on set.
Aaron finds it funny how the writers made Chanel #5, "the weird one", their love interest.
Austin thinks that Aaron is like Chanel Oberlin in real life, and Aaron thinks Austin is like Chanel #5.
Gallery
External links
Community content is available under
CC-BY-SA
unless otherwise noted.