Billie Lourd

Lourd at SDCC 2016
Biographical Information
Date of Birth:
July 17, 1992 (age 28)
Origin:
Los Angeles, California, United States
Years active:
2015-present
Show Information
Character(s):
Chanel #3
Season(s):
Season One • Two
Show Status:
Starring
"

I love it. It sounds like such a genius idea. It's hilarious. It's dark. It's everything I want to be.

"

—Billie Lourd about Scream Queens and her character Chanel #3[src]
Billie Catherine Lourd is an American actress. She made her film debut as Kaydel Ko Connix in Star Wars: The Force Awakens.
She starred as Chanel #3 on Season One and Season Two of Scream Queens.
Career
Early Life
Billie Lourd was born on July 17, 1992, in Los Angeles, California, USA. She is the daughter of CAA managing director Bryan Lourd and actress Carrie Fisher. Lourd is also the granddaughter of Debbie Reynolds and the niece of actor and producer Todd Fisher. Lourd graduated from New York University in 2014 after studying religion and psychology.
2015-present: Beginning of Acting Career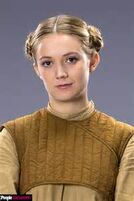 Lourd was cast as Chanel #3 on Season One of Fox Broadcasting Company's horror-comedy anthology series Scream Queens, which premiered on September 22, 2015. Lourd appeared as Lieutenant Kaydel Ko Connix in the film Star Wars: The Force Awakens, but only as a cameo.
She will reunite with her Scream Queens co-star, Emma Roberts, in Billionaire Boys Club, a biographical crime-drama film directed by James Cox and starring Ansel Elgort, Taron Egerton, Kevin Spacey, Roberts, Suki Waterhouse, Judd Nelson, and Jeremy Irvine. Lourd will play Rosanna, Irvine's character's love interest.
In 2017, she appeared as Winter Anderson in another Ryan Murphy show, the 7th season of FX horror-drama anthology series American Horror Story , titled Cult. The following year, she returned to the show as Mallory for its eighth season, titled Apocalypse.
Filmography
Films
Year
Project
Character
Notes
2015
Star Wars: The Force Awakens
Kaydel Ko Connix
Film debut
2017
Billionaire Boys Club
Rosanna
First major film role and starring with Emma Roberts
2017
Star Wars: The Last Jedi
Kaydel Ko Connix
-
Television
Year
Project
Character
Notes
2015-2016
Scream Queens
Chanel #3
TV debut; 23 episodes
2017
American Horror Story: Cult
Winter Anderson, Linda Kasabian
Main role, 10 episodes
2018
American Horror Story: Apocalypse
Mallory
Main role, 10 episodes
Trivia
Scream Queens marks Billie's first professional appearance on television.
When Ariana Grande went to the set for the first time for filming, she and Billie became really good friends. They even went camping in Santa Barbara, where they rented a boat, ate cheese and salami, and did some beading. Billie also describes Ariana as "the realest chick [she has] ever met!".
Ryan Murphy wrote Chanel #3 specifically for Billie, after being sat next to her at a dinner party, where she regaled him with tales of her dating life.
Abigail Breslin's first impression of Billie "was love at first sight" and "godly."
What Abigail likes the most about Billie is her dog, Tina.
Glen Powell describes Billie as "toughmuff".
Abigail describes Billie as "stirring, merciful, and winsome".
Billie's favorite Chanel, besides her own character, is Chanel #5.

If she had to switch roles with another Scream Queens character, she would like to play Chanel #5.

Billie has always called Emma Roberts "Rob".
Jamie Lee Curtis and the rest of the Scream Queens cast, along with the audience, sang "Happy Birthday" to Billie at San Diego Comic Con 2015.
Billie and Skyler Samuels were the only ones who did not ride the Scream Queens roller coaster at SDCC 2015 because they were too afraid, so they hid from the others.
Joaquin Sedillo, a staff member of Scream Queens, describes Billie as "intriguing".
Niecy Nash said that Billie is the one of the casts that can get along with everyone, even with the Red Devil.
Billie and Abigail are really good friends. Abbie even created a ship name, "Billgail".
She's the only actress whose character is part of The Chanels who has never recorded music.
Emma Roberts's mother said that Billie and Emma used to play together when they were little. Emma also mentioned this in an interview with Kelly and Michael.
She sings and plays piano, but she doesn't like it.
Actor Matt Bomer from American Horror Story called Billie to sing a duet in an Oscar party.
When she was in middle school, she used to cry because the boys used to tell her that her mom was hot until she eventually agreed and creeped the boys out.
Kelly Ripa and Anderson Cooper have said that Billie is like a granddaughter to them.
Her mother, Carrie Fisher, raised her without gender.
Gallery
External Links
Community content is available under
CC-BY-SA
unless otherwise noted.