Black Friday is the eleventh episode of the first season of Scream Queens, and the eleventh episode overall. Ian Brennan served as writer and Barbara Brown served as director. It had its official release on Tuesday, December 1, 2015 on Fox.
After the horror-filled events of Thanksgiving, The Chanels decide to celebrate their favorite holiday -- Black Friday, but the Red Devil has plans to stop their shopping spree. When the Kappas conclude that Dean Munsch is the killer, they set a plan in motion to stop her once and for all. Meanwhile, Denise lands yet another job, Chad offers Pete a chance to join the Dickie Dollar Scholars and someone confesses to being the murderer.
Plot
After the horror-filled events of Thanksgiving, the Chanels decide to celebrate their favorite non-Chanel based holiday; Black Friday. Dean Munsch tries to stop them on their way out, but Chanel reminds her she has no control over them and says she suspects Dean Munsch to be the killer. They then leave and go to the mall.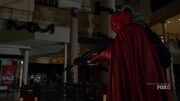 The Red Devil shows up at the mall turning off all the lights and manages to trap the Chanels inside. The other Chanels escape, but Chanel 1 gets shot with a crossbow. She survives after Denise Hemphill and a mall cop come to the rescue for a showdown with the Red Devil. The Red Devil shoots the mall cop and runs away. After the entire incident, the Chanels, Zayday, and Grace have a little meeting about how they could protect each other from getting killed while everybody thinks that the murderer is Dean Munsch except Zayday. Chanel has the idea to kill Dean Munsch, though Zayday disapproves. Grace also agrees with Chanel and they both have the idea to poison Dean Munsch. 
While kissing Grace, Pete tries to get her to have sex with him, but she refuses, saying she's not ready.
Chanel and Grace meet up with the Dean at her house and present her with apple cider, knowing it is her favorite beverage. Unbeknownst to her, they put blowfish venom in it, supposedly enough to kill several people. Dean Munsch drinks it all, and doesn't even feel slightly ill.

Chanel is baffled as to how Dean Munsch survived this, but later, the Chanels hatch another plan. They decide to freeze her to death using a cryotherapy chamber. Dean Munsch agrees to try cryotherapy with them, and while she's in the chamber, Chanel sets it below zero for 20 minutes. When Chanel opens the door, Dean Munsch, covered with icicles, says she's never felt better.
At the end of the episode, Grace tells Pete she's finally ready to have sex with him, but this time, Pete refuses. He tells her "I don't want your first time to be with a murderer."
Deaths
Main articles: Season One/Death Chart and List of deaths
| Character | Cause of Death |
| --- | --- |
| Mall Cop | Shot in the face by the Red Devil with a crossbow. |
| Amy | Committed suicide via laxatives. (revealed in this episode) |
This chart is for characters that survived or have an unknown status after an attempt of murder by the Red Devil.
Guest Cast
Special Guest Stars
Guest Stars
Co-Stars
Absent Cast Members
Trivia
Reception
Poll
Multimedia
Soundtrack

"Hazy Shade of Winter" – The Bangles


"Christmas Wrapping" – The Waitresses


"Tubthumping" – Chumbawamba
Images