Charisma Carpenter
Biographical Information
Date of Birth:
July 23, 1970 (age 45)
Origin:
Las Vegas, Nevada
Years active:
1994-present
Show Information
Character(s):
Mrs. Herfmann
Season(s):
Season One
Show Status:
Inactive
Charisma Carpenter
is an American actress. She's best known for her role as Cordelia Chase in the popular TV series
Buffy the Vampire Slayer
and its spin-off series
Angel
.
She guest-starred in the episode Chainsaw as Mrs. Herfmann on Season One of Scream Queens.
Career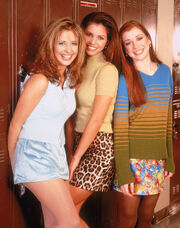 Charisma made her first television role in 1994, appearing in an episode of Baywatch. She eventually got a starring role on Aaron Spelling's short-lived soap opera, Malibu Shores. In 1996, Charisma auditioned for the role of Buffy Summers in Buffy the Vampire Slayer but was given the role of Cordelia Chase, a snobby and popular high school student. She played the character for three seasons (1997-1999) and joined the spinoff, Angel, along with David Boreanaz. After her departure from the series after four seasons (1999-2004), she returned for the 100th episode in the final season to give her character closure, marking her final appearance in the series and her last time playing Cordelia Chase.
Charisma continued to do television roles by guest starring on Charmed, playing The Seer, a psychic demon. She then had a recurring role on NBC series', Miss Match and Veronica Mars. She also guest starred on Greek, Back to You, Big Shots and CSI.
Personal life
Carpenter married Damian Hardy on October 5, 2002, in Las Vegas. On March 24, 2003, Carpenter gave birth to their son, Donovan Charles Hardy. Late 2007, Carpenter and Hardy separated and their divorce was made final in July 2008.
Filmography
Film
Year
Title
Role
Notes
1995-1996
Josh Kirby...Time Warrior!
Beth Sullivan
Chapters 1, 2 and 6
2003
What Boys Like
Kim
See Jane Date
Jane Grant
TV Film, Lead Role
2004
Like Cats and Dogs
Susan Hayes
2006
Flirting with Danger
Laura Clifford
TV film
Voodoo Moon
Heather
TV film
Cheaters' Club
Linda Stern
TV film
Relative Chaos
Katherine
TV film
2010
Psychosis
Susan Golden
2010
The Expendables
Lacy
House of Bones
Heather Burton
TV Film
2011
Crash Site
Rita Sanders
Deadly Sibling Rivalry
Janna/Callie
TV Film
A Trusted Man
Sonia Paston
TV Film
2012
The Expendables 2
Lacy
Haunted High
Persia the Librarian
TV Film
2013
Heaven's Door
Julie
2015
Bound
Michelle
A Horse Tail
Samantha Harrison
TV Film
Television
| Year | Title | Role | Notes |
| --- | --- | --- | --- |
| 1994 | Baywatch | Wendie Sanders | Episode: "Air Buchannon" |
| 1995 | Boy Meets World | Caterer | Episode: "Train of Fools" |
| 1996 | Malibu Shores | Ashley Green | Main role (10 episodes) |
| 1997–1999 | Buffy the Vampire Slayer | Cordelia Chase | Main role (Seasons 1–3; 54 episodes) |
| 1999 | Hey Arnold! | Simone (voice) | Episode: "Dinner for Four/Phoebe Skips" |
| 1999–2004 | Angel | Cordelia Chase | Main Role (Seasons 1–4) Guest (Season 5); 86 episodes |
| 2001 | Strange Frequency | Jules | Episode: "Don't Fear the Reaper" |
| 2003 | Miss Match | Serena Lockner | Episodes: "Most Hopeless Romantics", "Divorce Happens", "Something Nervy", "Santa, Baby" |
| 2004 | The Division | Emma Campbell | Episode: "Now I Lay Me Down to Sleep" |
| 2004 | LAX | Julie Random | Episode: "Thanksgiving" |
| 2004 | Charmed | The Seer/Kira | Episodes: "Cheaper by the Coven", "Styx Feet Under", "Witchness Protection" |
| 2005–2006 | Veronica Mars | Kendall Casablancas | Recurring role (11 episodes) |
| 2007 | Back to You | Brooke Schimmel | Episode: "Gracie's Bully" |
| 2007-2011 | Greek | Tegan Walker | Episodes: "Black & White and Read All Over", "Brothers & Sisters", "See You Next Time, Sisters!", "Fools Rush In" |
| 2008 | Big Shots | Janelle Johns | Episodes: "The Better Man", "Who's the Boss?" |
| 2009 | CSI: Crime Scene Investigation | Mink | Episode: "The Descent of Man" |
| 2009 | Legend of the Seeker | Triana | Episode: "Marked" |
| 2011 | Burn Notice | Nicki Skyler | Episode: "Better Halves" |
| 2011 | Supernatural | Maggie Stark | Episode: "Shut Up, Dr. Phil" |
| 2012–2013 | The Lying Game | Ann Rebecca Sewell | Main role (20 episodes) |
| 2013–present | Surviving Evil | Herself | Episode: "Terror Beach" (also series host) |
| 2013 | Blue Bloods | Maryanne | Episode: "Growing Boys" |
| 2014 | Sons of Anarchy | Carol | Episode: "Red Rose" |
| 2015 | Scream Queens | Mrs. Herfmann | Episode: "Chainsaw" |
Gallery
External links