Gigi-Wes Relationship is the relationship between Gigi Caldwell and Wes Gardner. They first met in Hell Week, where they go on a date for coffee. Their relationship ended when Gigi was murdered by the Red Devil in Thanksgiving.
History
Gigi notices that there's someone in a car outside the Kappa Kappa Tau house, but Grace tells her that it's just her dad, Wes, who wants to take care of her. Gigi goes talk to him so he can give Grace space, but they end up being really good friends. He tells her that he feels that Grace is pushing him away, but Gigi says that's just part of growing up. They are laughing, singing, and bonding with each other. Gigi asks him if he wants to go and get a coffee with her, and Wes says that he would love to. He starts the car and leaves with her.
Gigi enters Wes's Intro to Film Classroom while Texas Chainsaw Massacre is playing. She sits in the front row and approaches Wes once class is over. She smiles brightly and compliments Wes for being amazing. She asks "what did any of that mean?" Wes responds with explanation that we all have trauma and our ways of dealing with it defines who we are. Gigi invites Wes to be part of a nightly teacher neighborhood watch patrol. Wes responds enthusiastically stating it's a great idea. He suggests that they could discuss it further over salad (it's a step up from coffee without commitment level inferred with a meal). During salad, Wes indicates that mostly what keeps their salad from being a date is the presence of a 3rd person, Dean Cathy Munsch. Gigi comments that she's happy Dean Munsch tagged along because she brought all types of fun salad dressings that she loves. Gigi has a childish laughing fit after squeezing dressing bottle that makes a fart sound. The pseudo salad date is cut short when Wes leaves to find his daughter, Grace. Before leaving, he affectionately touches Gigi's arm and she lightly reciprocates. Later in the evening, Gigi is attacked by the Red Devil.
Wes is outside in his car and runs into the KKT house upon hearing Gigi screaming. While both try to fight off the Red Devil, Wes is cut by the Red Devil's chainsaw on his right arm. In the midst of the chaos, the Red Devil takes off leaving behind an idling chainsaw. Wes picks the chainsaw up from the ground after assuring Gigi is okay. Dean Munsch runs downstairs to see what all the noise is about and Wes accuses Dean Munsch of being the murderer.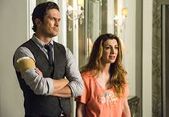 Gigi and Wes are united in their belief that Cathy Munsch should be further questioned as a suspect of the Red Devil that attacked them. They have a united front once again near the episode's end when the police are working with the university after a number of dead bodies were found at the Haunted House on Shady Lane. Gigi and Wes argue that Wallace University should be shut down based on logic that a serial killer is targeting students, especially those associated with Kappa.
Gigi and Wes are together at the KKT house as Dean Munsch affirms the campus is closing and Halloween is canceled. Grace goes to Wes's residence to get help with search for Zayday, when she walks in on Gigi and Wes having sex. Gigi overhears Grace whispering to Wes that she thinks she is a psychopath. Gigi and Wes go to Munsch's office together to report that a search is taking place for Zayday and they confirm upon inquiry that they are a couple.
Later, Wes and Gigi are split up from one another when their seacrh group is divided in two. Gigi alleges that the Red Devil took a baseball to her head and escaped up the shoot. Grace changes her heart and says she is honored that Gigi could be her new stepmother. They embrace in a hug and smile while Wes looks on with a big grin and thumbs up.
There is no progression of this relationship during this episode.
Gigi reveals that Wes has proposed to her to Grace, which puts her at odds with her father.
There is no progression of this relationship during this episode.
When Wes is waiting for Gigi to appear for their Thanksgiving he gives up ad goes to Kappa's Thanksgiving. Wes is then seen with Gigi screaming at her decapitated head.
While meeting Detective Chisolm in the police office, Wes reveals that he was going to break up with Gigi because she was "driving him nuts".
Gallery
Community content is available under
CC-BY-SA
unless otherwise noted.