Gigi

Biographical Information
Full name:
Jess Meyer (birth name)
Gigi Caldwell (legal name)
Gender:
Female
Hair color:
Light brown
Eye color:
Brown
Birthday:
September 18, 1976
Age:
39 (at time of death)
Occupation(s):
Lawyer
Sorority Chief
Sorority Sister (formerly)
Asylum Patient (formerly)
Killer
Red Devil (Leader. Inactive)
Status:
Deceased
Nickname(s):
The Hag of Shady Lane
Judge Antonin Scalia (by Boone)
Gigi Caldwelt (by Wes)
Relationship Information
Family:
Mrs. Meyer (mother; deceased)
Amy Meyer (sister; deceased)
Hester Ulrich (adoptive daughter/niece)
Boone Clemens (adoptive son/nephew; deceased)
Relationships:
Hester Ulrich (adoptive daughter/niece)
Boone Clemens (adoptive son/nephew)
Amy Meyer (sister)
Wes Gardner (ex-fiancé; deceased)
Grace Gardner (stepdaughter)
Friends:
Painter (former asylum companion)
Denise Hemphill (employee)
Enemies:
Boone Clemens (deceased)
Grace Gardner
Red Devil

Frenemies:
Cathy Munsch
Killer:
Unknown
Victims:
Chanel Oberlin (Multiple times. Survived. Indirect, through Hester, Boone, Pete, Wes, Ingrid]]
Sadie Swenson (Multiple times. Survived. Indirect, through Hester, Boone, Pete, Wes, Ingrid]]
Libby Putney (Multiple times. Survived. Indirect, through Hester, Boone, Pete, Wes, Ingrid)
Red Devil Mascot (Alongside Hester)
Melanie Dorkus (Indirect. Through Hester, Boone. Survived)
Agatha Bean (Indirect. Through Hester, Chanel)
Sonya Herfmann (Indirect. Through Boone)
Tiffany DeSalle (Indirect. Through Boone)
Shondell Washington (Indirect. Through Boone)
Aaron Cohen (Indirect. Through Boone)
Mandy Greenwell (Indirect. Through Boone)
Dodger (Indirect. Through Boone)
Caulfield Mount Herman (Indirect. Through Boone)
Sam (Indirect. Through Boone)
Roger (Indirect. Through Pete, Boone)
Jennifer (Indirect. Through Boone)
Cathy Munsch (Survived. Alongside Hester, Boone)
Earl Grey (Indirect. Through Boone)
Random Truck Driver (Indirect. Through Boone)
Boone Clemens (Through Pete, Boone himself)
Mall Cop (Indirect. Through Pete, Boone)
Pete Martinez (Indirect. Through Hester)
Zak (Indirect. Through Hester)
Sheila Baumgartner (Indirect. Through Wes, Hester, Herself, Pete)
Chad Radwell (Indirect. Through Wes, Hester, Herself, Pete)
Chanel #9 (Indirect. Through Ingrid, Hester)
Chanel #10 (Indirect. Through Ingrid, Hester)
Slade Hornborn (Indirect. Through Ingrid, Hester)
Chamberlain Jackson (Indirect. Through Wes, Hester, Herself, Pete)
Marguerite Honeywell (Indirect. Through Wes, Hester, Herself, Pete)
Dr. Scarlett Lovin (Indirect. Through Wes, Hester, Herself, Pete)
Wes Gardner (Indirect. Through Ingrid, Wes)
Jane Hollis (Indirect. Through Ingrid, Hester)
Dr. Cassidy Cascade (Indirect. Through Ingrid, Hester)
Ingrid Marie Hoffel (Indirect)
Multiple Blood Island Tourists (Indirect. Through Hester)
Boss:
Cathy Munsch (formerly)
Employees:
Denise Hemphill (formerly)
Red Devil (formerly)
Boone Clemens (deceased)
Hester Ulrich (formerly)
Other Information
Interests:
Friends (TV series)
Charades (game)
The 90's
Revenge
Clique:
Kappa Kappa Tau (formerly)
Talent(s):
Planning
Education:
Wallace University (formerly)
Series Information
Season(s):
Season One
Episode count:
11
First appearance:
Pilot
Latest appearance:
The Final Girl(s)
Portrayed by:
Nasim Pedrad
"

We are not kidnappers, we are murderers hell bent on revenge.

"

—Gigi talking on the phone to the Red Devil
Gigi Caldwell, born as Jess Meyer, was a main character and backbone villain on Season One of Scream Queens. She was president of the national chapter of Kappa Kappa Tau and a lawyer before her death in Thanksgiving. She is the mastermind and leader behind the entirety of the Red Devil murders.
After Sophia Doyle's death in 1995, Gigi (Then Jess) and her sister, Amy Meyer, took care of Sophia's twin babies until Amy's suicide. Jess suffered a mental breakdown and became known as The Hag of Shady Lane and continued to care for the babies. Roughly three years later she would decide to raise the babies to become killers to avenge the death of her sister. During the events of Thanksgiving, the Red Devil beheaded her and served her head to everyone at Kappa House.
She is portrayed by Nasim Pedrad.
Biography
Gigi interrupts Chanel Oberlin and Dean Cathy Munsch's talk about Cathy's desires of banishing Kappa Kappa Tau from Wallace University. Luckily to Chanel, Gigi is the president of the national chapter of Kappa Kappa Tau and a lawyer, so she states she is going to defend Kappa's right, and she further says that Cathy Munsch can't revoke the sorority's charter. Gigi asks Chanel to return to the house and leave her with Cathy alone. Cathy goes on to say that she's will make sure that Kappa don't survive this year with the way it's constituted. Gigi agrees that the sorority doesn't have a good system and the scene ends with Gigi asking if she can make a suggestion. At the Kappa rush party, Gigi says that she has an important announcement. She starts saying that she and Cathy had been thinking of ways to bring Kappa to the twenty first century, but Cathy stops her and goes to the point saying that this year Kappa will accept anyone who wishes to become a pledge. Zayday Williams later asks Gigi why she wears clothes from the '90s, to which Gigi replies that her therapist says she had a traumatic experience while growing up that makes part of her psyche forever trapped in the '90s, but she doesn't seem to think of it as a bad thing.
After Dean Munsch says to the Kappa Kappa Tau members that they can't get out of the campus until Detective Chisolm finishes his investigation, the girls start complaining. Gigi says that it's not that bad, because at least they can keep an eye on each other. Later, Gigi introduces Officer Denise Hemphill to The Chanels, a "top-notch" security guard. At night, Gigi notices that there's someone in a car outside the Kappa house, but Grace tells her that it's her dad, Wes, who wants to take care of her. Gigi goes talk to him so he can give Grace space, but they end up being really good friends. He tells her that he feels that Grace is pushing him away, but Gigi says that's just part of growing up. They are laughing, singing, and bonding with each other. Gigi asks him if he wants to go and get a coffee with her, and Wes says that he would love to. He starts the car and leaves with her.
Gigi shows up to Wes's Intro to Film class. She sits in the front row and approaches Wes after class and tells him that he was "amazing."
Wes brings up that he believes everyone has some type of trauma and that how they choose to deal with trauma defines who they are as a person. Gigi avoids looking him in the eye for a few seconds and seems taken aback by his words before she sighs, quickly agrees with him and asks him to be on a faculty/parent night watch team. Wes loves the idea and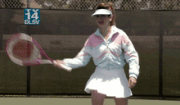 asks her for a "salad" date, a "step up from coffee." To which she agrees.
Dean Cathy Munsch requests Gigi to visit her at the tennis courts. During game of tennis, Munsch persuades Gigi to move into the KKT house to show the girls how two different women can get along. Before leaving the courts, Munsch calls dibs on Wes to which Gigi responds, "You can't call dibs on a person."
Gigi's original salad date with Wes inside the Kappa house ends up with Munsch present as a third uninvited guest. Though she seems slightly uncomfortable, Gigi claims that she is glad that Munsch joined them because she "loves all of the fun dressings she [Munsch] brought." Wes abruptly leaves the "date" when he discovers that Grace isn't in the house and left alone in the night. Just before leaving, Gigi and Wes exchange flirtatious smiles and touches.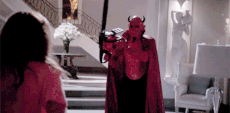 Later Gigi compliments Dean Munsch on her nightgown before the two go to bed. Munsch claims that she has to sleep to a "white noise sound machine" that has no volume control. It can produce loud and unsettling sounds, such as distressed whales, screaming baboons, and a crashing plane. Munsch "compromises" with Gigi, who is clearly bothered by the noises, by turning on the 'Slasher' movie setting. Gigi states she will just sleep on the couch downstairs. As she falls asleep, the Red Devil sneaks through the window with a chainsaw and attacks Gigi, obviously disturbed by the white noise sound machine. Gigi instantly wakes up when she hears the sound of a chainsaw starting and manages to avoid the chainsaw multiple times. Eventually Wes appears, and the Red Devil grazes him with the chainsaw. Wes is weakened and unable to move, and it is clear that the Red Devil will kill him. Gigi kicks the Red Devil to save Wes from being killed. However, in the midst of chaos, the Red Devil escapes through the window.
Gigi and Wes call the police to come to the house. Munsch comes downstairs, seemingly oblivious as to what just happened. In response, Wes and Gigi quickly accuse Munsch of being the killer
Detective Chisolm interviews Cathy asking if she saw the Red Devil entering the house or not after the killer attacked. Wes and Gigi argue that she's the killer. Denise rushes into the house and tells everyone about the attempted murder of Caulfield that happened in the previous episode, and says when they get fingerprints from the chainsaw that they'll find Zayday's. She is later present at Kappa house when Detective Chisolm and Cathy are saying the bodies that were found at the Shady Lane house. Cathy says that it will be better if all the adults go to the kitchen to talk about what to do, and Gigi goes with them.
In the end, Gigi is revealed to be the 'The Hag of Shady Lane' that took care of Sophia's baby after she died.
Gigi was present during Cathy's gathering of the two houses and the announcement to close down campus. When Cathy says that there will be a curfew and Halloween is cancelled, this causes outrage between the houses and Gigi tries to calm them down by proposing they play games instead.
Gigi is later seen making out with Wes in bed. Grace and Pete then walk in on them having sex, much to Grace's disgust. Grace then asks Wes for his help in finding Zayday, whom is still missing. Gigi tags along with Wes, Pete and Grace to find Zayday and talk to Cathy and Denise. Cathy then asks Wes and Gigi if they are a couple now, which she confirms. Denise then tags along with them to prove that Zayday is the killer. Grace then talks to Wes about moving on to someone new and "mentally disturbed", which Gigi overhears.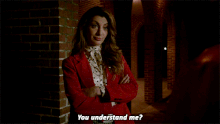 Gigi and Denise then come across the Red Devil's secret torture room. The Red Devil cuts off the power, rendering them blind in the dark. However, the killer has night vision goggles, and proceeds by turning on a chainsaw. Alarmed by the distinct sound, Denise fires her taser in a random direction, but accidentally hits Gigi in the breast. Gigi successfully fires her taser at the Red Devil's head. The power returns and Denise goes to help the others. When they return to the room, Gigi tells them that the Red Devil hit her across the head with a bat and escaped. Grace thanks Gigi for protecting them and says that she's glad Wes moved on with someone like her. In the final part of the episode, it's revealed that Gigi is working with the Red Devil and wants a certain male killed though the target's identity is ambiguous.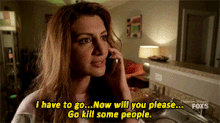 Gigi was seen at Chanel #2's funeral, where Chanel outs her as a "sneaky backstabber". Later, while making dinner for a date with Wes, Gigi receives a phone call from an anonymous person, seemingly the Red Devil, and it is revealed that the unnamed male Gigi wanted them to kill was the Red Devil who kidnapped Zayday, whom they still haven't killed. Gigi notes that their brand is murdering, not kidnapping, and that the male will have to go if he is messing with that. But Wes walks and she quickly brushes it off as "family drama". Later she is seen clothes shopping with Grace as Grace wants to revamp Gigi's 90's wardrobe into the 21st century, however Gigi appears uninterested in Grace's attempts to makeover her look.
When Pete Martínez and Grace Gardner return to the asylum, they meet a woman who reveals a painting of Gigi holding a baby boy and a girl which she witnessed 20 years ago when Gigi arrived at the asylum with them. Grace then goes to confront Gigi about lying about the babies and her resume to be full of fabrications. Grace then goes on to reveal that she was a member of Kappa Kappa Tau when she left for "medical reasons". Gigi then manipulates Grace's lack of mothering as the reason for her outburst and goes on to reveal that Wes and her are engaged. Grace then goes to see her father, whom just got off the phone from Gigi who is worried about Grace. Shockingly, it's revealed that Gigi may have known Grace's mom, making Wes a new suspect as the Red Devil.
Sometime after Grace walks out upset from Wes' apartment and Gigi comes into manipulate Wes about Grace's mental health. It is revealed through Boone's phone call with the Red Devil that Gigi was the attacker dressed as Antonin Scalla during the intrusion on Dean Munsch's house.
In the beginning of the episode, Boone is on the phone to the Red Devil to continue their plans to eliminate her. Later in the episode, Dean Munsch reveals to Zayday and Grace that after Sophia Doyle gave birth to a baby girl (and made Grace's mom and her friends leave to get shovels and pillow cases), she later gave birth to a baby boy, revealed to be Boone. They question how the twins ended up in Gigi's care. While is a hotel room, Boone is talking with the Red Devil, when Gigi walks in to reveal that Boone is wanted for an arrest and that all his plans have so far been idiotic and reckless. Commenting that he is the weakest link to their Red Devil team. Boone then proceeds on his attempt to get Gigi out of the picture by killing her, however the Red Devil stabs and kills Boone instead. Gigi praises the Red Devil's ambitions for revenge "greater than your brother's", making the reveal of the Red Devil being the girl from the bathtub.
Gigi is shown still in the hotel room with the Red Devil, complaining that she should be with Wes. The door knocks for room service and and Gigi answers. She obtains the food and an electric serrated knife she asked for. She looks at the quail she ordered, only to be disappointed by it's small size, having expected it to be the size of a pheasant. However, she still thanks the Red Devil for joining her for Thanksgiving, and lets the Red Devil do the honors with the serrated knife.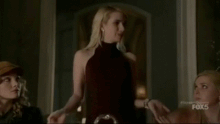 While on the phone to Wes, Grace asks where Gigi was, and he is unaware of her whereabouts. Near the end of the episode, Cathy asks Wes if his "crazy girlfriend" will be joining them for dinner so she can save a seat, but he doesn't know where she is. As Chanel thanks everyone for joining her for Thanksgiving, she reveals the turkey, and they all scream in horror as it's revealed to be Gigi's decapitated head on the platter.
Cathy Munsch is seen comforting Zayday Williams over the traumatic events during Thanksgiving. The Chanels are going on their Black Friday shopping spree, but Cathy forbids them until the police can talk to them about Gigi's murder, to which Chanel points out that the police can't prove it's the killer because everyone has been in the kitchen at some point to be a suspect.
While at the police station, Grace, Wes and Pete go to report Gigi's murder to Detective Chisolm, but Chisolm says that the boyfriend (Wes) is always the suspect. However, Wes claims that he was gonna break up with her eventually because she was "driving him nuts". He also reveals that he got fired from his job cause he couldn't solve the Red Devil case.
Grace mentions Gigi when the Kappa's go through all the Red Devil's victims.
While at Wes' apartment, Pete reveals that Gigi's real name was Jess Meyer, and her sister was Amy Meyer (the last girl to be seen with the babies). Gigi lost her sanity when her sister committed suicide, leading Grace, Wes and Pete to believe that Gigi was the person who raised the twins to become killers and get revenge on Kappa house.
While Grace and Zayday are investigating the Chanels, Gigi is shown quickly in a flashback to her death.
In a flash-forward to January 2016, it's revealed that Hester was the Devil left alive when Grace and Zayday introduce her during the winter rush at Kappa. She reveals this in a voiceover and during flashbacks. While in the asylum, Gigi would constantly grieve over her sister's death for over three years. By June 1998, she planned her revenge on Kappa by training Hester and Boone to become serial killers while growing up. When it was time to leave for Wallace University, the twins (and Gigi) needed new aliases. Boone pretended to be gay, while Hester decided to pretend to have scoliosis and stole a neck brace from a woman at the asylum, because no one wants to talk to the "weird kid."
Next, while deciding for a costume to wear as the killer, a man walks into the café Gigi and Hester are in, wearing the Red Devil mascot costume. Gigi killed the man wearing the Red Devil costume (which Hester thinks is ironic that their first victim was the Red Devil) so that they can have it.
Continuing with the flashbacks, it's revealed that it was Hester's idea to put hydrochloric acid in Melanie's spray tan, while Boone (disguised as the Red Devil) did it. When Hester enrolled at Wallace University, Dean Munsch knew that her high school and SAT's were faked, but accepted her because of her spinal deformity.
Profile
Gigi is quirky, optimistic and confident. She is always happy and likes to motivate people and spread joy. She is also very weird, quirky and crazy with both her personality and her looks, she wears really odd 90's clothes because of something very traumatic happened to her back then and her therapist says that she is just trapped in the 90's. She always tries to stay positive in any bad or awkward situation like when Red Devil attacked her with a chainsaw or even when her and Red Devil were trying to remain calm and continue with their struggling plans, she still remains positive and quirky hoping for the best to happen. Gigi is madly in love with Grace's father Wes and loves his company along with his love, when Grace dares to interfere and complain, Gigi makes sure to take care of it and explain to her to get used to them being together. But Gigi is also very secretive, she lied for years about taking care of Sophia's psychotic twins and being their guardian and making sure to make all of their plans perfect to get revenge at Kappa house, Gigi is very tough and motivated when it comes to her plans and makes sure to not let anything get in her way or stop her.
Gigi wears clothes from the '90s. She mostly wears young, pink clothes with jackets to promote Kappa house with its rule of looking stylish. She wears classy dresses with sharp killer heals. Gigi's look is both classy but young and daring.
Death
Death

Episode:
Thanksgiving
Reason:
Decapitated by an electric serrated carving knife and placed on a serving platter
Killer(s):
Unknown
Gigi tells the Red Devil to eat a quail as a treat before leaving for her Thanksgiving feast. Gigi prepares to cut the bird herself, but halts and takes time to thank the other Devil for spending time with her. She tells them that she gave up on her real family, so they are the only family she has left. She hands the Red Devil the electric serrated carving knife, asking them to 'do the honors.' The Red Devil seemingly murders Gigi, cuts off her head, and puts it on a platter to serve at Kappa Kappa Tau's Thanksgiving feast. Chanel #5 grabs the dish, walks into the kitchen and sets it down. Chanel opens it up to see Gigi's decapitated head. Chanel, Pete, Grace, Zayday, Chad, Chanel #5, Chanel #3, Wes, Hester, and Cathy all scream in fear as they see her severed head in the middle of the platter.
Relationships
Appearances
Total: 11/13
Trivia
Nasim Pedrad, the actress of Gigi, was one of the last people to be casted.
Ryan Murphy said that Gigi was a really difficult part to cast, because he wanted someone who could make this character a scene-stealer.

He also confirmed that most of Gigi's lines are just Nasim Pedrad improvising.

Gigi's name was supposed to be "Lucy" according to the original leaked script of episode one.
Gigi was the mystery person in the

Antonin Scalla mask during the Red Devil and Cathy scene.

Both her attacks were faked.
Her death occurred on November 26th, 2015. (Thanksgiving)
Her death was revealed 5 seconds before Thanksgiving ended. (Thanksgiving)
Her birth name was revealed to be Jess Meyer. (Black Friday)
Her sister's suicide may have been the traumatic experience that left her clothing style back in the 90's.
She was the first female main character to die.
Both she and Ingrid Marie Hoffel co-managed their respective communities alongside Cathy Munsch.

Ironically, both of them want revenge for the death of their sisters and become the head of the killing operation to do so.
Both also have a short lived friendship with Cathy, before turning against her.

She is very similar to Jane Hollis, as both of them are the masterminds behind a killing scheme, raising a child to become the killer in order to avenge the death of a loved one.

Ironically, despite being the masterminds, both of them are also the only conspirators of their schemes to never wear the actual costume.
They are also both betrayed by one of their allies and murdered by them.
The only difference is that Jane redeems herself in the end, while Gigi does not.
Gallery