Lea Michele

Michele at SDCC 2016
Biographical Information
Date of Birth:
August 29, 1986 (age 30)
Origin:
The Bronx, New York, U.S.
Years active:
1995-present
Show Information
Character(s):
Hester Ulrich
Season(s):
Season One • Two
Show Status:
Inactive
"

The thing that I'm most grateful for with this character is the opportunity to show people a completely different side.

"

—Lea Michele about portraying Hester Ulrich[src]
Lea Michele Sarfati, known professionally as Lea Michele, is an American actress, singer, and author. Her career-making turn occurred in 2006 with Spring Awakening, a rock musical, but she left the cast in 2008. Moving out to Los Angeles, Michele sought out movie and television roles. In just her second audition in Hollywood, Michele ended up getting a much more substantial role on Glee as Rachel Berry, which started in 2009 and ended in 2015.
She portrayed Hester Ulrich on Season One of Scream Queens and reprised her role in Season Two.
Career
Beginning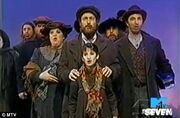 At the age of 8, Michele landed the role of young Cosette in the Broadway production of Les Miserables. She sang a song from Phantom of the Opera, the only musical she knew at the time, at her audition. Michele had gone to the audition to support a friend, but ended up landing the part herself.
The daughter of a deli owner and a nurse, Michele moved on to another Broadway production, Ragtime, in 1995. She played the Little Girl, the introvert daughter of a Jewish immigrant. The cast included such well-known Broadway talents as Audra McDonald and Brian Stokes Mitchell. She landed another break in 2004 with a role in a revival of Fiddler on the Roof starring Alfred Molina. Accepted to New York University's Tisch School of the Arts that same year, Michele decided to forgo college to pursue her career.
Despite her success on the stage, Michele did not fit in easily at her high school. "I am an unconventional beauty. I grew up in a high school where if you didn't have a nose job and money and if you weren't thin, you weren't cool, popular, beautiful," she told USA Today.
2006-2008: Spring Awakening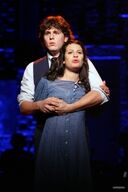 Michele's career-making turn occurred in 2006 with Spring Awakening, a rock musical based on the 1891 play by Frank Webekind. The production depicts a group of German teenagers who explore their sexuality. Michele had to handle some serious and sometimes explicit material in her role as Wendla. "I'm in a see-through nightgown and in a beating scene," she explained to WWD. Wendla becomes involved with Melchoir (played by Jonathan Groff) with disastrous results. Off stage, the two performers became best friends. She also worked with future Glee co-star Jenna Ushkowitz on the production. Michele and Groff left the cast of Spring Awakening at the same time in May of 2008.
2009-2014: Glee and Louder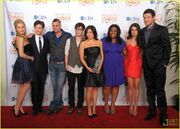 Moving out to Los Angeles, Michele sought out movie and television roles. One of her aspirations at the time was to get a guest spot on the medical drama Grey's Anatomy. Michele ended up getting a much more substantial role on Glee. Landing the part of Rachel Berry had its challenges, however. She believed that she flopped in her first audition. "The piano player messed up the song, and they were laughing so hard I had to tell them it was a serious scene and ask them to stop laughing," she told New York magazine. Before her last audition, Michele got into a car accident. She left the damaged car at the scene and got to the meeting with shards of glass still in her hair.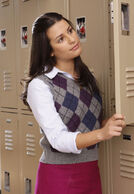 The creators and producers of the show, including Ryan Murphy, were impressed by Michele. Murphy told USA Today that the part was written especially for her. "I really believe in Lea's talent because her talent was once in a lifetime," he said. The role of an ambitious and annoying teenager who dreams of stardom appears to be a good fit for the actress. "Rachel is me when I was that age. She knows what she loves and who she is. She doesn't get caught up in what other people think is important," Michele told New York magazine.
Rachel is just one of the misfits that join their high school's beleaguered glee club. Ushkowitz appears as Tina, a punk teen. As Finn Hudson, Cory Monteith is a jock torn between music and sports, and is also Rachel's main love interest throughout the series. Matthew Morrison plays Will Schuester, the teacher that runs the club and tries to keep the club going, he likes to inspirate his students to follow their dreams. Jane Lynch appears as Schuester's nemesis named Sue Syvester, a cheerleading coach who wants to bring down the club. Dianna Agron and Naya Rivera, who portray Quinn Fabray and Santana Lopez respectively, are Rachel's main tormentors during high school, being described as very mean and popular girls that are Sue's main cheerleaders and favorite students, but they become friends by the series finale. Michele's close friend, Jonathan Groff, later signed on as the leader of a rival glee club named Jesse St. James, who ended up married to Rachel after Finn's death during the fifth season.
In addition to its interesting characters, Glee features outstanding musical numbers. Michele earned accolades for her take on "Don't Rain on My Parade," originally sung by Barbra Streisand in the musical Funny Girl. The cast's rendition of Journey's "Don't Stop Believin'" became the top downloaded song on iTunes the day after it was featured in an episode. The show's music has proved to be so popular that several soundtracks have already been released, and Michele and several other cast members played numerous concerts throughout the country in 2010 and 2011.
Her portrayal of Rachel earned Michele two Golden Globe nominations an Emmy Award nomination and a SAG award. Michele won two People's Choice awards for choice actress in a comedy and three Teen Choice awards for comedy actress. Michele was also named to Time's Most Influential people's list in 2010.
After six seasons and 121 episodes, of which Michele participated in 118, the most of any cast member, Glee ended on March 20, 2015.
Besides working on Glee, Michele voiced the character of Dorothy in an animated film based on The Wizard of Oz, titled Legends of Oz: Dorothy's Return. She also appeared on the romantic comedy film New Year's Eve, along with an all-star cast. Michele also released a book, Brunette Ambition, which talks about her personal life and also teaches how to get a healthier life.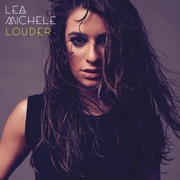 On September 18, 2012, it was announced that Michele would be working on her first solo album. On November 27, 2013, Michele announced via her Twitter page that the first single from her debut album Louder will be "Cannonball" out on December 10, 2013. On December 19, 2013, "Cannonball" debuted at number 75 on the Billboard chart, making her the first main Glee cast member to chart as a lead soloist on the Hot 100. The second single from the album, "On My Way", was released on May 4, 2014.
2015-present: Scream Queens and Places
After Glee's final season, Lea Michele began starring as Hester Ulrich, a main character, on Season One of Fox's horror-comedy TV series Scream Queens, alongside Jamie Lee Curtis and Emma Roberts.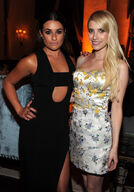 Her second book, You First: Journal Your Way to Your Best Life, was released on September 22, 2015, and she is currently working on her second studio album titled Places. The first single from the album titled "Love is Alive" was released on March 3, 2017.
In February 2017, it was announced Michele would not return to Scream Queens for it's third season to star in a new ABC comedy series.
Personal life
Michele dated Broadway star Theo Stockman from fall 2009 until August 2012. She started dating her Glee co-star Cory Monteith in late fall 2012. Their happy union proved to be brief, however. She supported Monteith's decision to go into rehab in April 2013 to combat his substance abuse problem, but his personal demons overcame him that July. Monteith died in a Vancouver hotel room after taking heroin and drinking alcohol, which ended up being a fatal pairing for the young star.
For weeks, Michele stayed out of the public eye, choosing to grieve in private. She made an appearance at the 2013 Teen Choice Awards to accept one of the event's honors. In her acceptance speech, Michele paid tribute to Monteith. "He was very special to me and also to the world, and we were very lucky to witness his incredible talent, his handsome smile and his beautiful, beautiful heart," she told the crowd, according to People magazine.  As of June 2014, she was in a relationship with Matthew Paetz, a model and dating/lifestyle coach. The couple met in April 2014, while shooting the music video for Michele's second solo single "On My Way". After almost a 2 year relationship, the pair split in February 2016.
Credits
Films
Buster & Chauncey's Silent Night (1998, voice)
Glee: The 3D Concert Movie (2011)
New Year's Eve (2011)
Legends of Oz: Dorothy's Return (2014, voice)
Television
Third Watch (2000)
Glee (2009-15)
The Simpsons (2010, voice)
The Cleveland Show (2011, voice)
The Glee Project (2012)
Inside the Actor's Studio (2012)
Top Chef (2013)
Sons of Anarchy (2014)
Scream Queens (2015-2016)
Dimension 404 (2017)
The Mayor (2017-present)
Theatre
Les Misérables (1995-96)
Ragtime (1997-99)
Fiddler on the Roof (2004-05)
The Diary of Anne Frank (2005)
Spring Awakening (2006-08)
Les Misérables (2008)
Discography
Louder (2014)
Places (2017)
Bibliography
Brunette Ambition (May 2014)
You First: Journal Your Way To Your Best Life (Sept. 2015)
Trivia
Because she is a singer, Lea Michele recorded only a few screams in the recording studio, and told Ryan Murphy to use those screams each time that her character needed to scream so her voice did not get damaged. When filming, she only opens her mouths and the scream is later added in post-production.
She worked at a bat mitzvah dress shop when she was 17.
She was home-schooled for one year while she lived in Toronto, where she was performing in the original cast of Ragtime and again when the show was brought to Broadway.
Her favorite thing about Scream Queens is the people that she works with.
If she had to switch roles with another Scream Queens character, she would like to play Denise.
Gallery
External Links
Community content is available under
CC-BY-SA
unless otherwise noted.