Nick Jonas

Jonas at the 2015 MTV Video Music Awards
Biographical Information
Date of Birth:
September 16, 1992 (age 23)
Origin:
Wyckoff, New Jersey, United States
Years active:
2000-present
Show Information
Character(s):
Boone Clemens
Season(s):
Season One
Show Status:
Inactive
"

It's a pretty amazing show to be a part of. It's a great cast and something I've had a lot of fun doing.

"

—Nick Jonas on being part of the cast of Scream Queens
Nicholas Jerry Jonas, better known as Nick Jonas, is an American singer-songwriter, musician, actor and multi-instrumentalist, best known as one of the Jonas Brothers, a pop-rock band he formed with his brothers Kevin and Joe Jonas. He was a Disney Channel star, appearing in Hannah Montana (2007), Camp Rock (2008), Jonas L.A. (2009-10), and Camp Rock 2: The Final Jam (2010). Jonas starred as Nate Kulina in Kingdom (2014-17), a DirectTV drama series, and Jonas recently starred as Jefferson "Seaplane" McDonough in Jumanji; Welcome to the Jungle (2017)
He guest-starred as Boone Clemens on Season One of Scream Queens.
Career
Early life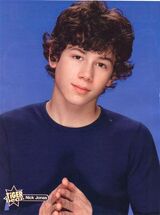 Nick was raised in Wyckoff, New Jersey, and is the younger brother of future band mates Kevin and Joe Jonas. All three boys played music together growing up, but it was Nick who was discovered first of the three, who was discovered by singing in a hair salon while his mother got a haircut.
At the young age of 7, Jonas began his singing career on Broadway, appearing as Tiny Tim, opposite Frank Langella, in the Madison Square Garden Production of A Christmas Carol. His Broadway career continued with roles as replacement alternates in Les Miserables and Beauty and the Beast and as the replacement in Annie Get Your Gun with Reba McEntire.
While working on Broadway, Jonas wrote a Christmas song with his father that was discovered by Columbia Records. Jonas was signed to the label as a solo artist in 2004. His musically inclined siblings, Kevin and Joe, co-wrote a few songs with him that eventually led to the formation of their three-brother band, the Jonas Brothers.
2007-2013: The Jonas Brothers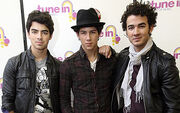 Jonas and his brothers released one album with Columbia but were then dropped by the label soon after. In early 2007, Disney's Hollywood Record picked up the trio and by the summer's end their songs were heard all over Radio Disney and their videos could be seen on the Disney Channel.
The Jonas Brothers' self-titled album was released in 2007, reached the Top 5 on the Billboard charts and went double platinum. The album's single, "S.O.S.," soared to No. 1 on iTunes.
Their follow-up album, A Little Bit Longer, marked an industry first: Jonas and his brothers became the first artists to have three albums, the former two and Camp Rock (the Disney original movie soundtrack) on the Billboard Top 10 at once. The group released their third album with Hollywood Records—and fourth studio album overall—in 2009, entitled Lines, Vines and Trying Times.
While balancing a recording career and performing in numerous musicals, Jonas has also worked as a television actor. He began by starring in Disney Channel's TV movies Camp Rock (2008) and Camp Rock 2: The Final Jam (2010) with Demi Lovato, and later earned a TV show with his brothers called Jonas L.A., which was cancelled after two seasons.
Nick Jonas's career extends beyond his identity with his brothers and he demonstrated that in 2010 when he embarked on his first solo tour with his side project, The Administration. Jonas never lost his love of the theatre and returned to Broadway in 2012 to replace Daniel Radcliffe and Darren Criss in How to Succeed in Business Without Really Trying. Jonas later earned notable guest appearances on the short-lived Matthew Perry comedy Mr. Sunshine (2011), ABC's Last Man Standing (2011) and the Broadway drama Smash (2012).
The Jonas Brothers officially broke-up during October of 2013.
2013-present: Nick Jonas and other projects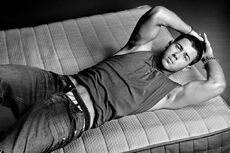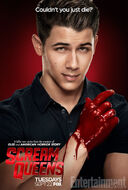 On June 25, 2014, Nick posted a snippet of a possible new song on Instagram. On June 28, 2014, he shot a music video for an upcoming single. On July 24, Jonas released the single, entitled "Chains", to the internet without any true promotion. The song was released to iTunes, and its video premiered on MTV on July 30, 2014, via Jonas' new label Island Records. In August he announced that his upcoming will be self-titled and will be released in late October or early November. He also revealed that the second single "Jealous" would be released on September 7. During the fashion week in New York he announced that he's signed by Wilhelmina Models. On October 8, 2014, Kingdom premiered on DirectTV's Audience Network, in which he stars as Nate Kulina, and was renewed for two more seasons two weeks later.
In 2015, he will appear as a guest mentor for Christina Aguilera's team on The Voice Season 8 during The Battle Rounds. On January 26, 2015 it was announced that he will recur on Scream Queens. On August 21, Jonas released another single called "Levels"
In 2016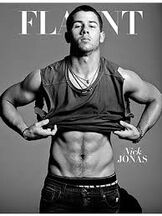 Filmography
Films
Films

| Year | Title | Role | Notes |
| --- | --- | --- | --- |
| 2008 | Best of Both Worlds Concerts | Himself | Concert film |
| 2008 | Camp Rock | Nate Grey | TV Movie |
| 2009 | Jonas Brothers: The 3D Concert Experience | Himself | Concert film |
| 2009 | Night at Museum: Battle of the Smithsonian | Cherub | Voice role |
| 2010 | Les Misérables: 25th Anniversary Concert | Marius Pontmercy | |
| 2010 | Camp Rock 2: The Final Jam | Nate Grey | TV Movie |
| 2015 | Careful What You Wish For | Doug Martin | |
| 2016 | Goat | Brett Land | |
| 2017 | Demi Lovato: Simply Complicated | Himself | Documentary |
| 2017 | Jumanji: Welcome to the Jungle | Jefferson "Seaplane" McDonough | |
Television
Television series and programmes

| Year | Title | Role | Notes |
| --- | --- | --- | --- |
| 2007 | Hannah Montana | Himself | Episode: "Me and Mr. Jonas, Mr. Jonas and Mr. Jonas" |
| 2008-2011 | Jonas Brothers: Living a Dream | Himself | Reality show, 18 episodes |
| 2009-2010 | Jonas L.A. | Nick Lucas | Main role, 33 episodes |
| 2011 | Mr. Sunshine | Eli White | Episode: "Employee of the Year" |
| 2011 | Last Man Standing | Ryan Vogelson | Episode: "Last Christmas Standing" |
| 2012 | Submission Only | Lonely Dancer | Episode: "Another Interruption" |
| 2012 | Smash | Lyle West | Recurring role, 2 episodes |
| 2012 | The X Factor | Himself/Judge | |
| 2012-2013 | Married to Jonas | Himself | Reality show, 4 episodes |
| 2013-2015 | Hawaii Five-0 | Ian Wright | Recurring role, 3 episodes |
| 2014-2017 | Kingdom | Nate Kulina | Main role, 40 episodes |
| 2015 | Scream Queens | Boone Clemens | Recurring role, 6 episodes |
| 2015 | The Voice | Himself/Guest | |
Personal life
Jonas was diagnosed with Type I Diabetes at the age of thirteen and uses an insulin pump to help him manage his condition. He has founded the Change for the Children Foundation. Partnering with five different charities, their goal is to raise money and awareness for Type I & II Diabetes.[84] He also developed a public service announcement with the 'Washington Nationals' to support diabetes care at Children's National Medical Center in Washington, D.C.
Singer and actress Miley Cyrus has stated that she dated Jonas from June 2006 to December 2007. Jonas dated musician Selena Gomez in 2008. Jonas began dating Australian actress and singer Delta Goodrem in May 2011, but they split in February 2012.
As of August 2013, he was dating Miss Universe Olivia Culpo, whom he met at the 2013 Miss USA competition. In June 2015, he announced they had broken up.
Gallery
External Links
Community content is available under
CC-BY-SA
unless otherwise noted.