Oliver Hudson
Biographical Information
Date of Birth:
September 7, 1976 (age 44)
Origin:
Los Angeles, California, U.S.
Years active:
1999-present
Show Information
Character(s):
Wes Gardner
Season(s):
Season One • Two
Show Status:
Inactive
"

There is an intensity about him that will ultimately come out.

"

—Oliver Hudson about his character Wes Gardner[src]
Oliver Rutledge Hudson is an American actor, best known for his role as Adam Rhodes from 2007 to 2013 in the CBS comedy series Rules Of Engagement.
He starred as Wes Gardner on Season One and Two of Fox's horror-comedy anthology series Scream Queens.
Early life
Oliver Hudson comes from an acting family. He is the son of actress Goldie Hawn and musician/actor Bill Hudson, and the older brother of popular actress Kate Hudson. He was born in Los Angeles, but after his parents divorced in 1980, he and his sister were raised in Colorado by their mother and her partner, actor Kurt Russell, whom Hudson considers to be his true father.
Hudson has four half-siblings: Emily and Zachary (from his father's marriage to actress Cindy Williams), Lalania (from another of his father's relationships in 2006), and Wyatt (from his mother's relationship with Kurt Russell). He is also the cousin of singer Sarah Hudson.
Hudson is of Italian (from his paternal grandmother), Hungarian Jewish (from his maternal grandmother), English, German, as well as very distant Dutch, descent.
Personal life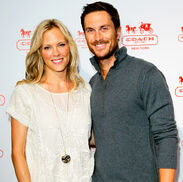 Hudson married Erinn Bartlett on June 9, 2006, in Cabo San Lucas, Mexico. The ceremony was officiated by a Buddhist monk. The couple has two sons: Wilder Brooks Hudson, born August 23, 2007, Bodhi Hawn Hudson, born March 19, 2010, and a daughter, Rio Laura Hudson, born in July 2013.
Career
Hudson's career began in 1999 when he appeared opposite his mother, Goldie Hawn, in the comedy film The Out-of-Towners. He later went on to star in several teen movies such as The Smokers and Going Greek. In 2002, he played the lead role of Jace Darnell in the WB comedy series My Guide to Becoming a Rock Star. Hudson also appeared in a recurring role opposite Katie Holmes as her love interest, Eddie Doling, in sixteen episodes of Dawson's Creek from 2002 to 2003. In 2004, Hudson starred in the WB series The Mountain, but the series was cancelled in 2005 after thirteen episodes. In 2006, Hudson starred in the horror films The Breed and Black Christmas, and he also starred with Claire Forlani in the Lifetime movie Carolina Moon in 2007.
From 2007-2013 Hudson starred as Adam Rhodes in the CBS sitcom Rules of Engagement, which is his best known role to date. In 2013, he was cast in the recurring role of Jeff Fordham for the second season of ABC's drama series Nashville. He was later promoted to a series regular for the third season.
In 2015, Hudson was cast as Weston "Wes" Gardener on the first season of Fox's Scream Queens after Joe Manganiello pulled out of the series due to schedule conflicts. Hudson came in as his replacement and had to juggle both his role on Nashville as Jeff and his role on Scream Queens as Wes, since he had a one year series regular deal with Nashville before it was renewed for a fourth season.
Filmography
Film
| Year | Title | Role | Notes |
| --- | --- | --- | --- |
| 1999 | Kill the Man | Revolutionary #1 | |
| 1999 | The Out-of-Towners | Alan Clark | |
| 2000 | Rocket's Red Glare | Hank Baker | |
| 2000 | The Smokers | David | |
| 2001 | Going Greek | Ziegler | Teen Choice Award for Best Movie Actor: Comedy |
| 2002 | New Best Friend | Josh | |
| 2003 | As Virgins Fall | Corky Stevens | |
| 2005 | Mr. Dramatic | Mr. Dramatic | Short film |
| 2006 | The Breed | John | |
| 2006 | Black Christmas | Kyle Autry | |
| 2008 | Strange Wilderness | TJ / Animal Handler | |
| 2013 | Grown Ups 2 | Kyle | |
| 2014 | Walk of Shame | Kyle | |
Television
| Year | Title | Role | Notes |
| --- | --- | --- | --- |
| 2002 | My Guide to Becoming a Rock Star | Jace Darnell | Series regular, 11 episodes |
| 2002-2003 | Dawson's Creek | Eddie Doling | Recurring role, 16 episodes |
| 2004-2005 | The Mountain | David Carver Jr. | Series regular, 13 episodes |
| 2006 | 10.5: Apocalypse | Will Malloy | TV Movie |
| 2007 | The Weekend | Julian | TV pilot |
| 2007 | Carolina Moon | Cade Lavelle | TV Movie |
| 2007-2013 | Rules of Engagement | Adam Rhodes | Series regular, 100 episodes |
| 2013-present | Nashville | Jeff Fordham | Recurring cast (Season 2), Series regular (Season 3—) |
| 2015-2016 | Scream Queens | Wes Gardner | Main role (Season 1), Recurring role (Season 2) |
Trivia
Oliver's mother, Goldie Hawn, was pregnant with him for 10 months.
He was 11 pounds when he was born.
During birth, Oliver suffered from a life-threatening condition called meconium aspiration. It occurs when newborns begin breathing while still in the womb and accidentally inhale contaminated amniotic fluid. As a result, Oliver's lungs were filled with massive amounts of bacteria, and he was in neonatal intensive care for three days. The doctors thought he wasn't going to make it.
Hudson has said that he considers step-dad Kurt Russell to be his true father, since his biological father, Bill Hudson, abandoned him after his divorce with Goldie Hawn. Bill even went on to publicly disown Oliver by saying "he is dead to me now" after Oliver posted a throwback photo of Bill, Kate, and himself to Instagram on Father's Day with the caption "Happy Abandonment Day."
In 2002, Oliver was named one of the 50 Most Beautiful People by People Magazine.
Oliver played in the 2005 World Series of Poker Main Event, but was eliminated on the very first hand by 2003 runner-up Sam Farha, who had a better full house than Hudson.
Oliver is an avid golfer and plays to a 2-handicap.
His ex-brother-in-law is Chris Robinson, the lead singer of The Black Crowes.
Gallery
External links
Community content is available under
CC-BY-SA
unless otherwise noted.