"

Good evening, idiot hookers!

"

—Chanel to the new pledges.
Pilot is the first installment of the first season of Scream Queens, and the first episode overall. This episode was directed and written by Ryan Murphy, Brad Falchuk, and Ian Brennan. Filming for this episode commenced in March 2015, and had its world premiere at the 2015 Comic-Con. It had its official release on Tuesday, September 22, 2015 on Fox and was followed by the second episode, Hell Week, as a special two-hour premiere.
Kappa Kappa Tau is the most demanded sorority for pledges in Wallace University, and it is ruled by queen bee Chanel Oberlin and her minions. But when anti-Kappa Dean Cathy Munsch decrees that sorority pledging must be open to all students, and not just the school's silver-spooned elite, all hell is about to break loose, as a devil-clad killer begins wreaking havoc across the campus, ending the episode with two victims.
Plot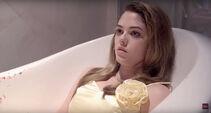 During a flashback in 1995, in the middle of a party at the Kappa Kappa Tau house, Amy, Bethany, Coco, and Mandy find Sophia lying in a bathtub in the bathroom, bloody, with a baby in her hands. Instead of helping, all of the sorority sisters but Amy walk out to go dance to the song "Waterfalls" by TLC. When the sorority sisters come back, they are shocked to find Sophia has died.
In the present day, it's a new school cycle at Wallace University, but this year Dean Cathy Munsch won't let Kappa have the same system that it currently carries. The dean asks for Chanel Oberlin, the now-president of Kappa and the meanest girl of the university, to go to her office. There, Cathy tells Chanel that she thinks that she was the one who injured the previous Kappa president, Melanie Dorkus, but Chanel denies it. Munsch says that she's going to take Kappa down this year, starting by revoking their charter. Just then, Gigi Caldwell, president of the national chapter of Kappa Kappa Tau and a lawyer, walks in and says that she's not allowed to revoke their charter. Chanel then threatens Cathy and exits. The dean then tells Gigi that Kappa won't have it easy this year and Gigi tells Cathy she has a suggestion.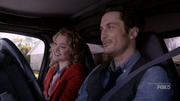 It's Grace Gardner's first day at college, and her father, Wes takes her in his car to the university. It is revealed that Grace's mom died when she was two. Wes begs Grace to not join a sorority, but she wants to feel closer to her mother who was part of Kappa. She convinces her roommate and new best friend Zayday to join the Kappa sorority with her.
At the "Rush Kappa" party, Cathy makes the announcement that Kappa will be required to accept anyone who wants to become a pledge. Shocked at the news, everybody leaves except for a few. Chanel is beyond mad to see the new pledges left. She then introduces Hester, Tiffany, and Sam. Dean Munsch then introduces The Chanels to Jennifer, another new pledge who terrifies Chanel with her candle vlogging hobby.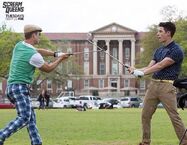 The next day, Chanel goes to talk with her boyfriend Chad Radwell, president of the Dickie Dollar Scholars fraternity, about what happened at the party. He tells her that he is going to break up with her if her popularity decreases for having misfits in her sorority, and his best friend Boone supports his decision. This makes Chanel to make plan to scare the other girls so they quit the Kappa sorority.
Chanel tells Kappa's housekeeper Ms. Bean that she will burn Ms. Bean's face off by drowning her in a fryer. Chanel then explains that it won't be for real, only pretend and that the oil won't be hot because they will turn off the machine. At The Grind, Pete Martinez, the barista, meets Grace and warns her about Kappa, saying that it's a dangerous house. Chanel interrupts their conversation and says to Grace that Pete got a little too obsessed with her last year and that she had to get a restraining order against him. Pete explains that he was a freshman with a huge crush on her, then accuses Chanel of intentionally leading him on.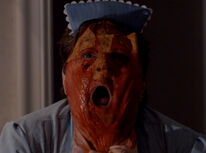 After Chanel #2, Chanel #3, and Chanel #5 find a "creepy collage" of Chanel's face in Ms. Bean's room, Chanel decides that it's time to scare the pledges. Unaware that the fryer is on, Chanel burns Ms. Bean's face for real, causing her to die. Everyone starts screaming and Grace storms out of the kitchen, intending to call the police. Chanel bribes the other girls, except Zayday, with a trip to Cancun, Mexico, to say that Grace was the one who killed Ms. Bean if she says a word to the police. The girls then hide the dead body in a freezer, unaware that Pete is following and tracing them.
Dean Munsch is in bed with Chad after having sex, and she explains that she blackmailed him to have sex with her with academic probations and confesses that her husband left her for a 19-year-old two years ago (as we later find out in Beware of Young Girls). Chad says that he is in love with her, but she kicks him out of the room.
Grace later confesses to Pete what Chanel did, but Pete already admits that he saw them take the body and that he is the reporter of the school newspaper The Sentinel. Grace offers to be his eyes and ears inside the house so they can destroy Chanel and expose what she did. They then go to the freezer to examine the body, however Chanel and her boyfriend Chad Radwell arrive and discover the body is missing.
The Chanels are having a blood oath to promise to not say what they witnessed earlier, but Chanel #2 says she can't stay silent and goes to her room to pack her things and leave the university, but she is interrupted by Red Devil and becomes her first victim, stabbing her in the shoulder and head. Chanel #2 died sending a tweet on her computer after she was stabbed in the head. After the other Chanels discover the body, they decide to keep the body in that room until they know what to do with it.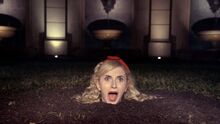 The "Hell Week" at Kappa house begins, a week where the new pledges will prove that they are Kappa worthy by submitting themselves in terrible tasks made by The Chanels. Before their first task, Chanel and Grace leave to take a coffee to make peace between them, but nothing gets solved. Meanwhile, Chanel #3 and Chanel #5 bury the girls up to their heads in the house garden and leave them alone so they can spend the night buried, but while the Chanel #3 and #5 are away, Tiffany gets decapitated by the Red Devil in a lawn mower, leaving the other girls screaming and horrified.
Deaths
Main articles: Season One/Death Chart and List of deaths
This chart is for characters that survived or have an unknown status after an attempt of murder by the Red Devil.
| Character | Situation |
| --- | --- |
| Melanie Dorkus | Gets her skin burned with hydrochloric acid. She is seen alive in Dorkus. |
| Jennifer | Survived the lawn mower attack. |
| Hester | Survived the lawn mower attack. |
| Sam | Survived the lawn mower attack. |
| Zayday | Survived the lawn mower attack. |
Guest Cast
Special Guest Stars
Guest Stars
Co-Stars
Absent Cast Members
Reception
This episode was watched live by 4.04 million U.S. viewers. Along with Hell Week, Pilot received mixed reviews from critics. Terri Schwartz from IGN stated that "Ryan Murphy has worked his TV magic again with a killer start to Scream Queens. From the acting to the costuming to the writing, everything about this concept and execution works. Scream Queens is as funny and self-aware as it needs to be to not bore audiences, but also offers up enough mystery and intrigue to keep even the biggest skeptic entertained," giving the episodes 9.7 out of 10.[1] Melissa Maerz from Entertainment Weekley thought that "Scream Queens is flawed, but it's worth watching, simply because there's nothing easy about it. The casual brutality takes just as much work to think about as it does to watch."[2] In a negative review, Ben Travers from Indiewire gave the two-hour premiere a C+ and added, "Scream Queens will be lucky if it survives its first season. Murphy may not be able to tell the difference, but modern TV audiences know how to spot a fake."[3]
Critics praised the performance of Jamie Lee Curtis. A.V. Club's LaToya Ferguson said that she "is able to take that mean-spirited nature and darkness and harness its power perfectly," and gave the episode a C.[4] Spencer Kornhaber from The Atlantic thought that the shows is "terrible-bad, rather than terrible-good."[5]
Poll
Trivia
The actors didn't know who played the killer, but Murphy has had them do multiple takes of scenes as though they were the killer. Source
This is the first episode written by all three co-creators.
In the buried scene, the production team had to take the actresses' measurements in order to create some fiber glass tubes in the earth for the girls to stand in. The actresses were then covered with a big pile of sod that reached up to their neck line. Lea had the worst experience in this scene because the insects were crawling all over her face. 
When Emma Roberts was filming the scene where she gives the new pledges her death stare, she had to keep looking away from Lea Michele because she couldn't keep a straight face when looking at her.
The spray tan scene took two days to film.
Chanel #2's death scene has several mistakes.

When Chanel #2 is texting the Red Devil, her phone shows the text bubbles in green and his phone shows the text bubbles in blue. Since they are both using iMessage, both should have text bubbles in blue.
It is impossible to receive a message from "Unknown" unless that is the name entered into the iPhone's contacts (which is unlikely in this situation) - the sender would be identified by their phone number or email address.
The time and day that the messages between the Devil and Chanel #2 were sent change between takes.
After #2 gets stabbed for the first time in her shoulder, it can be read on her cell phone that she sent a message that says "I know it's you Chanel" before the Devil told her that he/she was going to kill her now, that text was actually never sent.
When Chanel #2 is tweeting, her message is more than the standard 140 character limit.

In The Final Girl(s), it is revealed that Hester is one of the killers and that she turned on the fryer that Chanel uses to drown Ms. Bean's face, which was planned to be only a prank but turned out to be a homicide accidentally. It is supposed that Pete, also part of the Red Devil team, told Hester about Chanel's prank when she talks with Ms. Bean about it at the coffee bar, however, Pete wasn't part of the killers team at that time.
It is never revealed who created the "creepy collage" of Chanel's face in Ms. Bean's room.
In a flashback to Chanel watching Jennifer's candle vlogs, Chanel has a MacBook Pro with a blue case that reads 'Kappa Kappa Tau'; however in Pumpkin Patch and The Final Girl(s) she has a gold MacBook with a clear case that reads 'Chanel' - similar to the lunch boxes the Chanel's keep their cotton balls in.
Wes and Grace mention the film/book series Twilight, which stared Taylor Lautner - Taylor would later join the season 2 cast of Scream Queens.
When Chanel Oberlin interrupts the conversation between Pete Martínez and Grace Gardner outside the coffee bar, Grace was supposed to introduce herself to Chanel shaking her hand, but Chanel says that she has rough hands and horrible shoes, and later asks if she is Amish or something.
When Chanel introduces the new Kappa Kappa Tau pledges to the hell week, Jennifer is eating candle wax and Zayday Williams asks her "Are you eating candle wax?" with a disgusted face.
In the promos, Chanel #2 sends "I know it's you Chanel" to the Red Devil when she is texting with him, this message was never sent and was mistakenly added during a take of the scene.
At the end of the Official Trailer, it can be seen that Red Devil closes the drawer where Boone's "dead" body is placed. However, in the actual episode, the killer only opens the drawer, instead of closing it, only to reveal that Boone is still alive.
There are some teasers with a scene of Gigi Caldwell saying "Hashtag, don't hate us 'cuz you ain't us".
Some scenes of the promos feature Ariana Grande's double actress, these scenes were deleted and later re-shot with the real actress.
Multimedia
Soundtrack
"What's a Girl To Do?" – Bat for Lashes
"Waterfalls" – TLC
"Warm In the Winter" – Glass Candy
"A Thousand Years" – Christina Perri

"Heart and Soul" – T'Pau
"I Know There's Something Going On" – Frida
"Hold Me Now" – Eden XO
Images
<gallery> ScreamQueens Pilot101-SororityHouseEstate.jpg ScreamQueens Pilot101-ChannelRoom Closet.jpg File:Newstill3.jpg Chanels wo chane 1.jpg File:Newstill11.jpg File:Newstill8.jpg Sc1.png File:Newstill23.jpg Canels wo chane 1.jpg File:Newstill15.jpg File:Newstill1.jpg still 3.jpg Sq cathy still.PNG File:Newstill26.jpg Gigi still.PNG File:Newstill9.jpg Chanel's colset.jpg The Chanels in the Pilot.jpg File:Newstill18.jpg Chad still.PNG File:Newstill17.jpg Scream queens new still.PNG Nick sill.png File:Newstill6.jpg Chad and boone still.jpg Chanel face.PNG File:Newstill4.jpg File:PSL.jpg File:Newstill10.jpg File:Newstill5.jpg File:Newstill27.jpg File:Newstill28.jpg ScreamQueens Pilot101-Chanels.jpg Chanels still other.png File:Newstill14.jpg Hester in Pilot.jpg Sarah tourse.jpg Pilot.jpg Chanel 2 and 3.PNG Emma-roberts-ariana-grande-pink-in-scream-queens-trailer-social.jpg File:Newstill13.jpg ScreamQueens Pilot101-BloodOath.jpg File:Newstill2.jpg File:Tumblr nv66pa6MLy1u3310xo1 540.jpg CL1ifvNWoAA5Bq-.jpg ScreamQueens Pilot101.jpg <gallery>
Videos
References
Community content is available under
CC-BY-SA
unless otherwise noted.