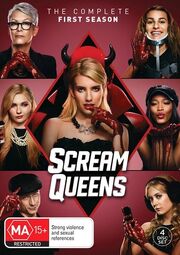 Scream Queens: The Complete First Season is the anticipated DVD of the first season of Scream Queens. It was released on December 6, 2016 as a 4-disc set and distributed by 20th Century Fox Home Entertainment.[1]
Press release
Couldn't you just die?
Kappa House, the most sought-after sorority for pledges, is ruled with an iron fist (in a pink glove) by CHANEL OBERLIN (Emma Roberts). But when anti-Kappa DEAN CATHY MUNSCH (Jamie Lee Curtis) decrees that sorority pledging must be open to all students, and not just the school's silver-spooned elite, all hell is about to break loose, as a devil-clad killer begins wreaking havoc across the campus.
An over-the-top, biting satire, SCREAM QUEENS is part black comedy, part slasher flick and a modern take on the classic whodunit, in which every character has a motive for murder... or could easily be the next victim.
Discs content
Disc 1
Disc 2
Disc 3
Disc 4
References
Community content is available under
CC-BY-SA
unless otherwise noted.