"

Pretty evil.

"

— Season One's tagline
Season One of Scream Queens was announced when Fox ordered a 15-episode season on October 20, 2014; however, the number of episodes were reduced to 13 by the network sometime later. The Pilot first premiered on July 8 at the 2015 Comic-Con, and the season started officially airing on television on September 22, 2015. Filming for this season started in New Orleans on March 13, 2015 and ended in November 2015.
Synopsis
Related article: Timeline
In 1995, a terrible accident occurred in the Kappa Kappa Tau sorority at Wallace University, a mystery that was never solved. Amy Meyer was rushing downstairs in the party to Bethany Mulligan, Mandy and Coco, telling that something really bad happened. Bethany says the blood on Amy's hands is her period blood, and she says that isn't her blood. The girls rush into the bathroom, only to find Sophia Doyle all bloody in the bathtub, Bethany asks that who told her to have a baby tonight (not noticing that she was pregnant), and Sophia apologizes to an angry Bethany for the embarrassing situation and begs for help, but the girls deny to do so and return to the party to listen to Waterfalls by TLC. When the three sorority girls finally return, they witness Sophia's dead body (while her eyes are stuck open, and her mouth is a little open) and a distressed Amy announcing that she is dead, the girls become scared and confused on what to do next while Sophia's body remains lifeless sitting in the bloody tub. In the present day, Chanel Oberlin (Emma Roberts) is the new president of the sisterhood, and with the help of her minions, Chanel #2 (Ariana Grande), Chanel #3 (Billie Lourd), and Chanel #5 (Abigail Breslin), make Kappa a house full of glamour, beauty, and evil. Tired of this, the dean of the campus, Cathy Munsch (Jamie Lee Curtis), requires The Chanels to accept anyone who wants to be part of Kappa. This opens place to people like Grace Gardner (Skyler Samuels), a girl trying to discover more about her mother and Kappa's past with the help of her love interest Pete Martínez (Diego Boneta) and overprotective father Wes Gardner (Oliver Hudson), Zayday Williams (Keke Palmer), Grace's genius best friend who wants to become Kappa's new president, Hester Ulrich (Lea Michele), who suffers of scoliosis and is obsessed with Chanel, Jennifer (Breezy Eslin), a candle vlogger, Sam (Jeanna Han), a tomboy lesbian, and Tiffany DeSalle (Whitney Meyer), a deaf Taylor Swift obsessed girl. This threatens Chanel's popularity and Kappa's reputation, causing major problems in her relationship with Chad Radwell (Glen Powell), the rich leader of the Dickie Dollar Scholars fraternity and most popular guy in the University.
Full of anger, Chanel and her minions try to make the new pledges' time at the house a living hell, but what begins as a dirty game, ends in a series of murders caused by Red Devil, a serial killer who hides behind the mask of the university mascot. The race for survival begins in an environment where anyone can be attacked, anyone can die, and anyone can be the killer. Will the Kappa girls discover the true identity of the psychopathic murderer and come out alive?
Cast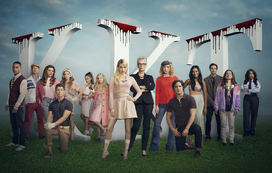 Main article: Category:Season One Characters
Main article: Category:Season One Cast
Main Cast
Recurring Cast
Special Guest Stars
Guest Stars
Co-Stars
Episodes
Image
Title
Original Airdate
U.S. Viewers (in millions)
1. "Pilot"
September 22, 2015
4.04[1]

Kappa House, the most sought-after sorority for pledges, is ruled with an iron fist (in a pink glove) by Chanel Oberlin. But when anti-Kappa Dean Cathy Munsch decrees that sorority pledging must be open to all students, and not just the school's silver-spooned elite, all hell is about to break loose, as a devil-clad killer begins wreaking havoc across the campus.

Special Guest Stars: Ariana Grande as Chanel #2 and Nick Jonas as Boone.

Absent: Lucien Laviscount as Earl Grey.

2. "Hell Week"
September 22, 2015
4.04[1]

With the death of two Kappa Kappa Tau members, Wallace University welcomes a detective and an incompetent security guard to keep the students safe. Meanwhile, a curious Grace tries to discover Kappa's darkest secrets while Chanel and Chad have problems in their relationship. The Chanels continue with their sorority's "hell week" and a character gets killed-off with an unexpected ending.

Special Guest Stars: Ariana Grande as Chanel #2, Nick Jonas as Boone, and Niecy Nash as Denise Hemphill.

3. "Chainsaw"
September 29, 2015
3.46[2]

Chanel finds a new project in Hester, Chanel #3 confesses a secret, and Grace and Zayday uncover a surprising connection between two fellow students. Meanwhile, Denise sets her sights on one of the Kappas and Dean Munsch appoints a new Wallace University mascot as Chad and Earl Grey lead the fraternity on a witch hunt for the Red Devil

Special Guest Stars: Niecy Nash as Denise Hemphill.

4. "Haunted House"
October 6, 2015
2.97[3]

As Halloween approaches, Chanel creates a devious plan after Zayday makes a shocking announcement. Meanwhile, Grace and Pete pay a visit to a mysterious woman with ties to Kappa's past. Also, Hester grows closer to Chad, Denise continues her search for the Red Devil killer, and Dean Munsch does everything in her power to keep Wallace University open.

Special Guest Stars: Ariana Grande as Chanel #2 and Niecy Nash as Denise Hemphill.

5. "Pumpkin Patch"
October 13, 2015
2.39[4]
With Halloween just days away, Dean Munsch makes an announcement affecting the campus and, specifically, Chanel's plan to throw a pumpkin patch party in support of her Kappa Kappa Tau presidential campaign. Meanwhile, Grace and Pete lead a search party for a missing friend, which steers them closer to the Red Devil than ever before, and Chanel #3 and #5 learn what life would be like without Chanel.

Special Guest Stars: Niecy Nash as Denise Hemphill.

6. "Seven Minutes in Hell"
October 20, 2015
2.59[5]
In an attempt to protect herself from the killer, Chanel makes a surprising decision, which leaves Zayday in a position of power. To stay close to each other, the girls of Kappa Kappa Tau host a slumber party, but when a shocking discovery is made, not everyone will survive the night.

Absent: Diego Boneta as Pete Martínez and Nasim Pedrad as Gigi Caldwell.

7. "Beware of Young Girls"
November 3, 2015
2.44[6]
Dean Munsch is left in a desperate situation when a shocking event leads her to come face-to-face with her ex-husband's mistress. Meanwhile, in an attempt to determine who the Red Devil killer is, the Kappas use a Ouija board to communicate with Chanel #2 from beyond the grave and learn of a wicked plot against one of their own.

Special Guest Stars: Ariana Grande as Chanel #2.

8. "Mommie Dearest"
November 10, 2015
2.51[7]
Grace enlists Chanel's help to learn more about Kappa Kappa Tau's past, and ends up realizing she might not be so different from her nemesis after all. Dean Munsch goes "psycho" when she becomes the latest target of the Red Devil. Meanwhile, Denise becomes the new house mother of Kappa House and a shocking figure from the past returns.

Special Guest Stars: Nick Jonas as Boone Clemens and Niecy Nash as Denise Hemphill.

Absent: Lucien Laviscount as Earl Grey.

9. "Ghost Stories"
November 17, 2015
2.37[8]
Denise does little to calm the Kappas' fears when she spins a terrifying ghost story. Meanwhile, Hester's shocking announcement pushes Chanel to the edge, and a familiar face returns to campus as the Red Devil claims another victim.

Special Guest Stars: Nick Jonas as Boone Clemens and Niecy Nash as Denise Hemphill.

Absent: Diego Boneta as Pete Martínez and Oliver Hudson as Wes Gardner.

10. "Thanksgiving"
November 24, 2015
1.98[9]
Chad takes Chanel to his family home for Thanksgiving, where she meets his brothers, Brad and Thad, as well as his parents. However, an uninvited guest throws the holiday into chaos. Meanwhile, Dean Munsch gathers the survivors at Kappa House, but dinner quickly explodes into accusations of who among them is really the killer. Then, the Red Devil carves up a deadly main course as another victim falls.

Special Guest Stars: Chad Michael Murray as Brad Radwell.

Absent: Lucien Laviscount as Earl Grey.

11. "Black Friday"
December 1, 2015
2.40[10]
After the horror-filled events of Thanksgiving, The Chanels decide to celebrate their favorite holiday — Black Friday, but the Red Devil has plans to stop their shopping spree. When the Kappas conclude that Dean Munsch is the killer, they set a plan in motion to stop her once and for all. Meanwhile, Denise lands yet another job, Chad offers Pete a chance to join the Dickie Dollar Scholars, and someone confesses to being the murderer.

Special Guest Stars: Niecy Nash as Denise Hemphill.

Absent: Nasim Pedrad as Gigi Caldwell.

12. "Dorkus"
December 8, 2015
2.55[11]
After a friendly face confesses to be one of the killers, Grace and Zayday are really close to know who the final killer is. Chanel reunites with someone of her past, with an unexpected surprise. Shocking confessions lead everyone to think that a Kappa sister is trying to murder them, and someone is blamed as the Red Devil.

Absent: Glen Powell as Chad Radwell, Nasim Pedrad as Gigi Caldwell, and Lucien Laviscount as Earl Grey.

13. "The Final Girl(s)"
December 8, 2015
2.55[12]
The killer is finally unmasked and tells the story of why the deaths are happening, but wants to get away with it by blaming three of our favorite Kappa sisters.

Special Guest Stars: Nick Jonas as Boone Clemens (voice only) and Niecy Nash as Denise Hemphill.

Absent: Diego Boneta as Pete Martínez and Lucien Laviscount as Earl Grey.
Deaths
Main articles: Season One/Death Chart and List of deaths
| | |
| --- | --- |
| Episode order | Chronological order |
Home media
Scream Queens: The Complete First Season was released on December 6, 2016 as a 4-disc set. It includes all episodes of Season One, in addition to special features and limited edition nail wraps.
Multimedia
Images
Videos
References